First introduced in October of 2014, the EtherLynx Vision camera has continuously proven itself as one of Lynx's most powerful and trusted cameras. Its advanced features had never been seen before, and its innovative capabilities are now allowing Lynx users to operate fully automatic timing equipment on another level. In fact, a few years down the road, you may look back and ask yourself how you ever did any of your timing without a camera of this caliber. How can we speak so highly of this technology? Because we have the evidence to back it up.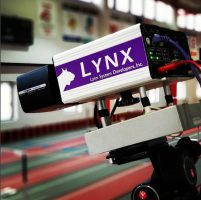 The EtherLynx Vision is a sports timing powerhouse with the ability to produce high-speed photo-finish results. It stands out from our older cameras because it checked off a lot of firsts for Lynx:
First camera with EasyAlign 2-D alignment mode
First camera to produce full-color images by default
First camera to contain an array image sensor (allows users to switch between 1-D and 2-D modes from within the software)
The striking new features of our Vision camera, combined with game changing upgrades, make it nearly impossible to say no to updating your timing routine with our latest technology.
EasyAlign 2-D Video Alignment Mode

EasyAlign is just another way that a Vision camera will make your life easier. This revolutionary mode displays a live, full-frame video preview of the camera's field-of-view on your computer screen. The 2-D preview overlays two thin lines (vertical and horizontal) so that the camera can be adjusted visually to ensure precise alignment on the finish line. Once the camera is aligned, the array image sensor makes it simple to switch the camera back to 1-D capture mode to get accurate, photo-finish results.
In the past, EtherLynx line-scan cameras had to be aligned using 1-D mode, which can be time consuming. Operators had to rely on the colors and lane lines in the images to determine proper angles and alignment. Worry no more! The 2-D video mode has evolved Lynx technology to align Vision cameras quickly and accurately on the finish line, therefore ensuring top of the line trustworthy results. Easy is in the name for a reason!
Full Color

Images
We are not in the 1900's anymore! Black and white images are a thing of the past, unless you are trying to post some artsy selfies on Instagram. In this day and age, you should not have to struggle to read the results of your race due to the lack of color in the photo. The Vision camera will provide you with high quality images containing up to 32,756 colors! Even the best timers have obstacles: hip numbers can fall off or be obscured, but by having full-color results, quick and accurate evaluations can be made by using school affiliation and uniform color &/or design. The races you time will be blown away by the way you are representing yourself: as a qualified, reliable, and up-to-date technological sports timing wiz.
Along with these technological features, Vision cameras also have:
Power-Over-Ethernet: Comes standard so no AC power is required at the camera location
Gigabit Transfers: Allows for improved data connectivity at 1,000 Mbps
Silent Operation: Dramatically reduced power consumption gets rid of the need for internal fans or cooling, making the Vision the quietest camera yet
Backwards Compatibility: Integrates with every camera since 1996
With options to upgrade including: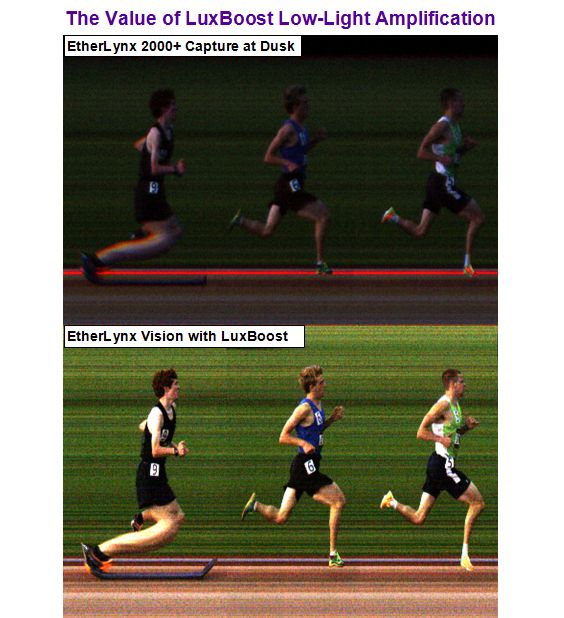 High Resolution Option: Camera comes standard with 1,000 fps, but high resolution brings it up to a whopping 2,000 fps at 1,280 vertical pixels
On-Board Level Option: Allows timers to monitor that the camera is level directly from within the FinishLynx software
LuxBoost Option: Greatly amplifies brightness during low-light captures
Electronic Filter Control Option: Enable and disable low-light camera filters from within the FinishLynx software
Wi-Fi Option: Wirelessly transfer timing and results data
Internal Battery Option: Allows the camera to continue running in the event of a power outage
Phased Light Compensation Option: Helps correct the strobing effect of artificial phased lighting when capturing finish line images indoors
With all of these new hardware and software features, the Vision has become the standard for photo-finish cameras and Fully Automatic Timing. Every timer needs this as part of their setup because it brings results to a whole new level of accuracy, efficiency, and reliability. Contact us to see how you can integrate an EtherLynx Vision camera into your timing setup today!