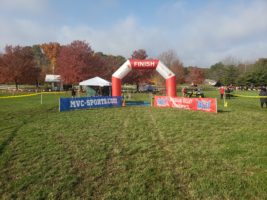 Something we really enjoy here at Lynx is getting to know the people who use our products. Just like our own business, each of our customers have their own story – how and why they started, the challenges they faced along the way, and so much more. That's why we started asking our community for their stories. It's so interesting to hear from people all around the world who may disagree on some things, but have one thing in common: they think FinishLynx is the best! For our latest installment of the FinishLynx Timer Spotlight, we spoke with Don Passenger and Lindsey Wieck, the father-daughter timing team who went from timing races with Popsicle sticks and stop watches to using FinishLynx cameras to capture about 500 events every year.
Name: MichianaTiming.com
Locations: Michigan, Indiana, Illinois, Wisconsin
Number of Events: About 500 per year
Briefly tell us about your business.
Our business, MichianaTiming.com, times about 500 events each year. Our primary areas are track, cross country, road races, and triathlons in the states of Michigan, Indiana, Illinois, and Wisconsin. The company was co-founded by Don Passenger (dad) and Lindsey Wieck (daughter). Lindsey is the owner of the company and handles all aspects of financial management.
What is one thing that makes your company unique?
We are re-sellers, or dealers, of FinishLynx equipment, so we sell what we use and use what we sell, which makes for good support for our Lynx purchasers.
How long have you been in business?
Ironically, nobody knows when or how our business started. We began by timing races with Popsicle sticks and stop watches and just kept automating more and getting better. Eventually, we bought our first Lynx camera about 11 years ago- used- and it is still in service today along with several dozen other cameras. We started chip timing ten years ago, and we just continue to grow in our knowledge and use.
Is there any advice you wish you had received when you first started out?
Respect the relationships others have built… and value the relationships you have built.
What are the biggest challenges you face in your business?
Timing at its core is really hard work and so the challenge is finding enough talented crew members to handle 6-10 events on any given day while maintaining the quality our customers deserve (which we view as including not just race directors/meet managers, but also coaches, participants, and spectators too). We are lucky to have about eight key people who help make our company grow and thrive.
What three words would you use to describe FinishLynx?
Accurate, stable, awesome.
Which products and accessories are a part of your usual timing set up?
Are there any features you would like to see added to the system?
Don: I have shared my next goal with the Lynx engineering team and I think it will be amazing and revolutionary, but it is a secret.
Lindsey: A siren to scare people off who might inopportunely cross in front of your camera 🙂
What has been your favorite race so far and why?
We have several, but the Manistee National Cross Country Invite is maybe the best because of how well organized it is.
If you could time any type of race in the world, which would it be and why?
Don: The Olympics because as a child it was my goal to participate in the Olympics, but my athletic skills were just short of that standard.
Lindsey: I really love some of the amazing FinishLynx art I've seen created and would love to be in the right place with the right athletes to make some of my own!
What made you start timing? What keeps you going (favorite part of the job)?
We feel that we are giving back to a sport that gave us so much in life and helped make us who we are. We don't really know how or when we started. It was just helping friends or timing events for teams we coached, but then we found we had a talent for it and it just kept growing.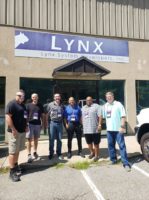 Please feel free to share any other information that you think is interesting or relevant to the timing community.
One of our favorite parts of timing, which was enhanced by our opportunity to be a dealer, is the network of friends that we have nationwide. On any given day we may get a dozen or more calls ranging from former Olympians who time, to a first time mom and pop, or local school getting things clicking for the first time and missing one step. We enjoy problem solving and it gives us satisfaction to be able to assist others.
We are very thankful for Don and Lindsey for answering these questions for our Timer Spotlight Series. We loved hearing all about your company and what you've been through!
Interested in being a part of our Q&A? Please send an email to: marketing@finishlynx.com
To learn more about MichianaTiming: Click Here
To learn more about photo-finish timing systems: Click Here