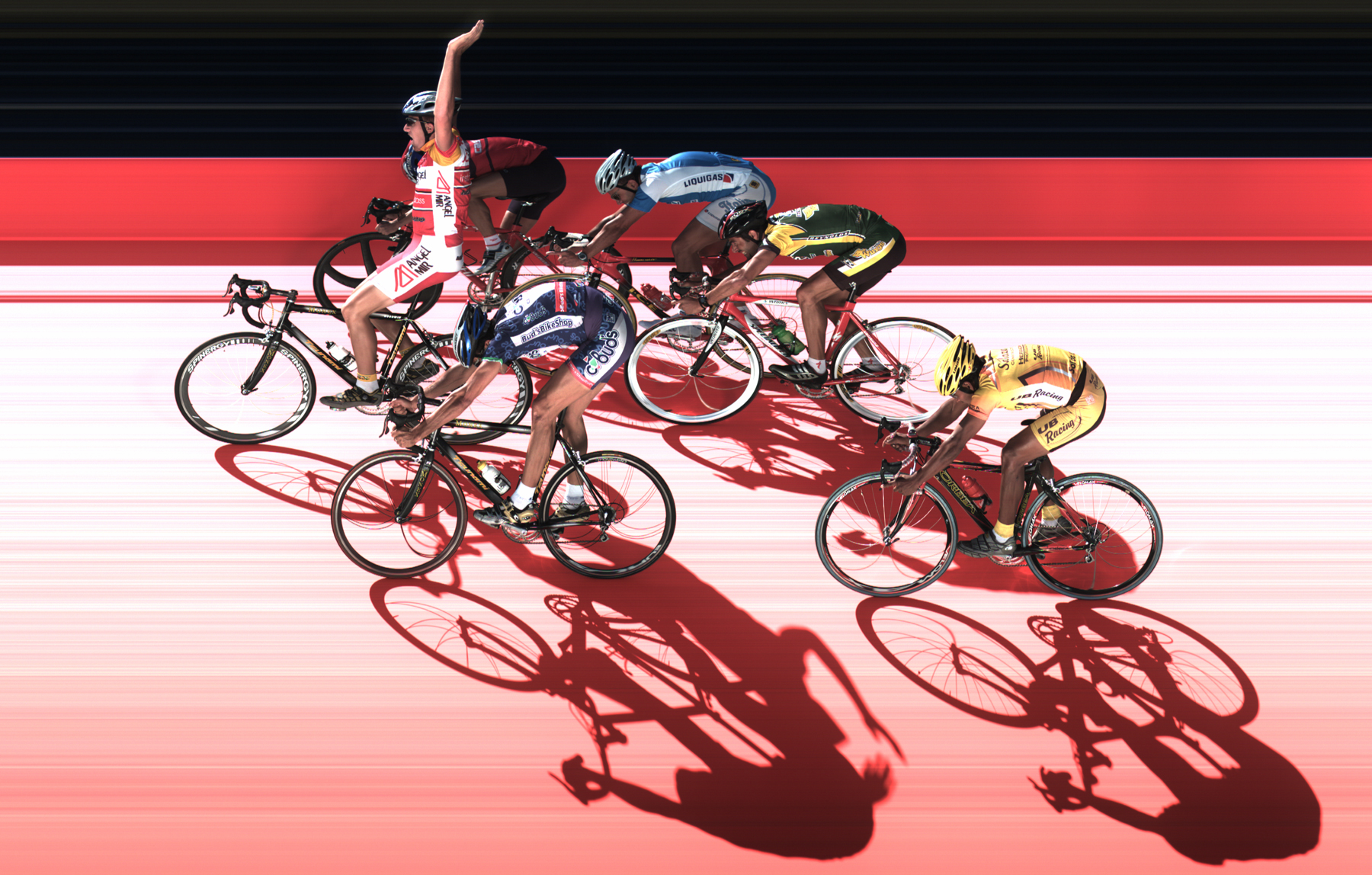 FinishLynx Photo-Finish Timing Software
FinishLynx is the world's most popular and powerful digital photo-finish and sports timing software. When combined with an
EtherLynx photo-finish camera
, FinishLynx produces time-stamped results images (accurate to .001 or greater) for world-class fully automatic timing. The FinishLynx software also allows users to interface with an endless combination of cameras, scoreboards, and other 3rd-party accessories to create a powerful and secure results network from behind a laptop.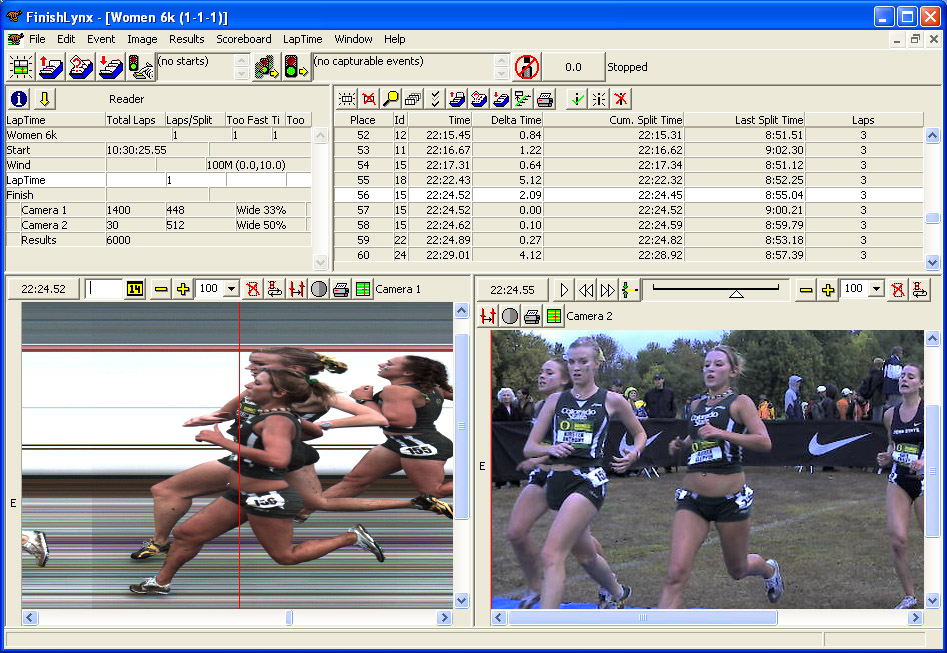 FinishLynx photo-finish  timing software differs from other types of results technology because it powers a full range of EtherLynx line-scan cameras to produce true fully automatic timing (F.A.T.) results accurate to 1/1000th of a second or more. Now that F.A.T. is required by a growing number of national and international athletic organizations (World Athletics, USATF, etc.), we've had more and more clubs and federations from across the globe adopting FinishLynx fully automatic timing technology for their race needs.
A line-scan image is comprised of a series of incredibly thin individual pictures of the finish line, and whatever happens to be crossing it, placed one after another. As more and more vertical images are pieced together side-by-side inside of FinishLynx, the picture begins to take shape. Click the image for a closer look.
FinishLynx Photo-Finish Timing Software Allows Users To:
Secure file system with enhanced file sharing permissions
Control multiple cameras simultaneously, mixing monochrome and color
Native virtual memory for continuous imaging (unlimited maximum capture time)
User-configurable pari-mutuel specific interface with automatic beaten lengths calculation
Real-time serial user-specified scoreboard interface for running time and results
Manual or automatic lane identification inside FinishLynx
Image/results printing with automatic start indication
Intelligent continuous image zoom and rolling scrolling
Live video mode for accurate camera alignment
Contrast post-processing and gamma control
Start-logging capability
Object finder and automatic dead space elimination
Multi-language support
FinishLynx can import/export data directly from/to LynxPad and is also compatible with many 3rd-party database applications.
How Line-scan Cameras Work with FinishLynx

FinishLynx is compatible with all modern versions of the Windows OS, including 32-bit and 64-bit versions of Windows 10, and the new Windows 11.
Windows 11 compatibility Info
Windows 10 compatibility Info
Please note that FinishLynx software plugins require a serial number in order to be activated. If you would like to purchase a plugin or retrieve the serial number of a past order, please contact us.
FinishLynx Software
| Name | File Size | |
| --- | --- | --- |
| FinishLynx 12.20 (1/6/2023) | 3 MB | Download |
| [archived] FinishLynx 12.10 (7/6/2022) | | Download |
| [archived] FinishLynx 12.00 (11/1/2021) | 3.3 MB | Download |
| FinishLynx Sample Files (.exe) | 182.8 MB | Download |
FinishLynx LITE (Scholastic)
| Name | File Size | |
| --- | --- | --- |
| FinishLynx LITE 12.20 | 3 MB | Download |
| [archived] FinishLynx LITE 12.10 | 2 MB | Download |
| [archived] FinishLynx LITE 12.00 | 2.5 MB | Download |
FinishLynx Help Files
| Name | File Size | |
| --- | --- | --- |
| FinishLynx Help Files (12.20) | 37 MB | Download |
FinishLynx Manuals
| Name | File Size | |
| --- | --- | --- |
| FinishLynx 12.20 Release Notes | 123 KB | Download |
| FinishLynx 12.10 Release Notes | | Download |
| FinishLynx 12.00 Release Notes | 549.0 KB | Download |
| Spanish FinishLynx Manual | 15.9 MB | Download |
FinishLynx Software Plug-ins
| Name | File Size | |
| --- | --- | --- |
| Automatic Capture FinishLynx Plug-in | 141.9 KB | Download |
| RadioLynx Wireless Start FinishLynx Plug-in | 139.9 KB | Download |
| Network COM Port FinishLynx Plug-in | 114.9 KB | Download |
| Lap Time FinishLynx Plug-in | 118.9 KB | Download |
| Time Trial FinishLynx Plug-in | 123.8 KB | Download |
| Multiple Split Interface FinishLynx Plug-in | 154.9 KB | Download |
| External Synchronization Plug-in | 113.9 KB | Download |
| Lynx Data Port Plug-In | 137.9 KB | Download |
US Track Packages - QSG
| Name | File Size | |
| --- | --- | --- |
| QSG - Vision Platinum Package High School Setup | 972.5 KB | Download |
| QSG - Vision Diamond Package High School Setup | 1.0 MB | Download |
| QSG - Vision Gold Package High School Setup | 827.5 KB | Download |
| QSG - Vision Silver Package High School Setup | 768.5 KB | Download |
| QSG - Vision Bronze Package High School Setup | 905.6 KB | Download |
| QSG - Vision Scholastic Package High School Setup | 783.9 KB | Download |
FinishLynx Quick-Start Guides
| Name | File Size | |
| --- | --- | --- |
| QSG - FinishLynx Windows 8 Meet Manager Networking Setup | 1.2 MB | Download |
| QSG - FinishLynx Hytek Meet Manager Networking (Windows 7) | 1.0 MB | Download |
| QSG - FinishLynx LynxPad Meet Manager Networking (Windows 7) | 928.1 KB | Download |
| QSG - Using an EtherLynx Camera Inside FinishLynx | 904.0 KB | Download |
| QSG - Align an EtherLynx Camera with FinishLynx | 729.2 KB | Download |
| QSG - Network COM Port (NCP) Plugin | 34.2 KB | Download |
| QSG - Using LynxPad with FinishLynx | 340.8 KB | Download |
Miscellaneous
| Name | File Size | |
| --- | --- | --- |
| FinishLynx Software Datasheet | 216 KB | Download |
| Windows 11 Networking Guide | 343 KB | Download |
| Windows 10 Networking Guide | 626.4 KB | Download |
| ATEN USB Serial Adapter Driver (1.0.084) | 3.9 MB | Download |
| Keylok USB Dongle Driver - Windows 10 (01-2016) | 1.7 MB | Download |
| Prolific USB Adapter Driver PL2303 (Windows 8) | 4.1 MB | Download |
| Ser2pl64 (.sys) Serial-to-USB Driver Patch | 42.9 KB | Download |
| FinishLynx USB to Serial Driver | 2.3 MB | Download |
| FinishLynx Remote Control | 10 KB | Download |
Product Version: 12.20

Related Products