Photo-Finish & Video Cameras for RFID Chip Timing Systems
Add FinishLynx Cameras & Never Question Chip Times Again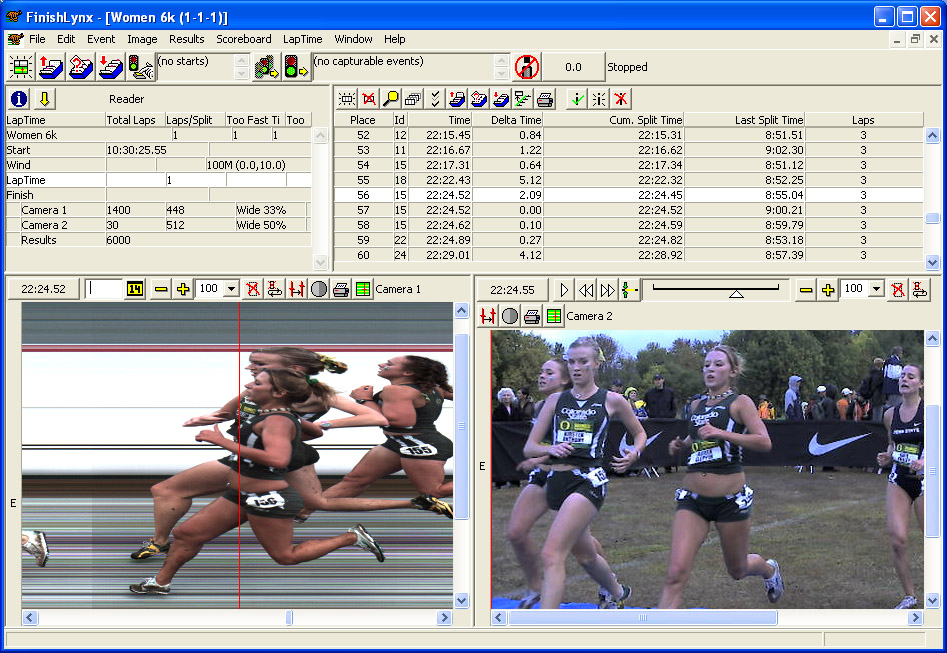 Adding FinishLynx to your chip system provides digital video and time-stamped photo-finish images for your race results. That means you'll have visual proof to confirm every chip read to 1/1,000th of a second or more. Stop worrying about missed chips, wrong finish orders, or questionable finish times ever again.
Chip systems are great for road races because they can capture thousands of finish times quickly and efficiently. But what happens if those finish times are missing or incorrect? The nature of RFID technology means that chip timers may have to sacrifice accuracy for ease of use. Thankfully, FinishLynx offers an elegant solution: combining chip reads with time-stamped video and photo-finish images.
Turn Chip Reads Into Time-Stamped Results Images
RFID transponder reads can vary depending on athlete speeds, weather conditions, number of competitors, chip/bib placement, antenna power, and more. The FinishLynx software can automatically overlay your chip reads onto time-stamped photo-finish images so you can evaluate every finisher to within a 1/1000th of a second or more. FinishLynx turns your ordinary chip system into certified fully automatic timing.
Use Your Chip System – FinishLynx cameras interface with many popular chip timing systems so you can enhance the technology you already own.
Capture Certified Results – Produce certified results by adding technology that is trusted by championship events in running, cycling, motorsports, and everything in between.
Add Some Peace of Mind – Photo-finish images provide visual proof for close finishes, preventing issues with inaccurate, broken, or missing chips.
Improve Your Accuracy – FinishLynx photo-finishes are accurate to at least 1/1000th of a second – impossible with chip readers or video alone. Up your precision by 10x with a FinishLynx camera.
Get Fantastic Add-Ons – Lynx is more than just photo-finish cameras. Enjoy other add-ons like time-synced video, automatic capture, wireless start, scoreboard integration, and more.
Join the Lynx Network – Join a global network of timers who trust FinishLynx at their races. Exchange ideas, tips, and tricks. Plus you'll enjoy 24-hour emergency tech support for life.
---
Sample Camera Integration for Road Races, Marathons, and XC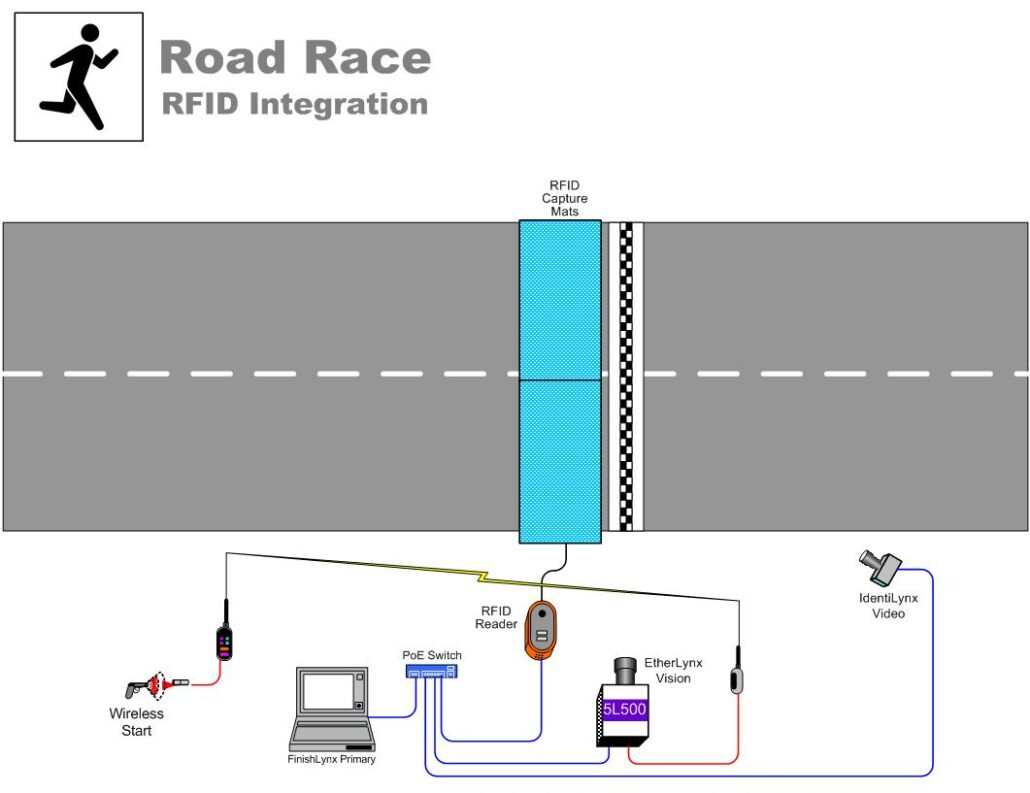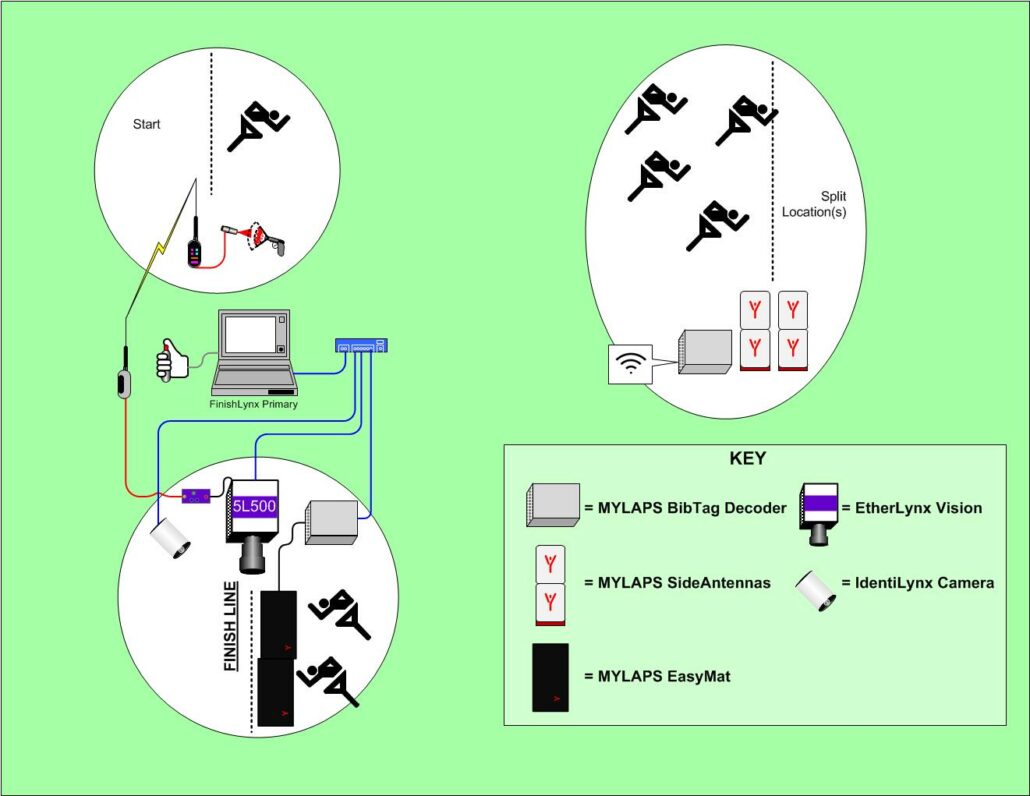 ---
FinishLynx Integrates with Popular Chip Timing Systems

FinishLynx sports timing cameras are compatible with a growing number of RFID chip systems, including MYLAPS, Active/IPICO, Tag Heuer, Race|Result, ChronoTrack, Trident, and several others. Our timing software also interfaces with various types of transponder technology including:
Disposable RFID tags (Fun runs & obstacle races)
Reusable shoe tags (Cross Country & Road Races)
Bib Tags (Marathons and distance races)
Dual-Frequency RFID chips (Multi-Sport transponders)
Active Transponders (Cycling & Motorsports)
Want to see if FinishLynx cameras will interface your current chip technology? Contact us with more information about your needs.
---
Frequently Asked Questions
What Hardware/Software do I need to Integrate with FinishLynx?
There are a lot of chip systems on the market and not all interface with FinishLynx. Before you purchase an RFID system to interface with FinishLynx, confirm that it does work with our system. All chip timers will need the FinishLynx software, LapTime plugin and Network COM Port (NCP) plugin. In addition to the timing software and plugins, you will also need a photo-finish camera, IdentiLynx video camera, and or a compatible starting system.

What are the advantages to adding FinishLynx to a chip timing system?
Chip timing is relatively inexpensive and somewhat easy to setup therefore, there are thousands of road races and marathons across the world that rely solely on RFID tags (shoe tags, bib tags, etc.) without the added security of cameras. FinishLynx adds visual, time-stamped verification for all chip times which can be especially beneficial to races with close finishes. When chips are missed, broken, or bunched together, FinishLynx images give race directors indisputable proof of finish order and finish times.
| Name | File Size | |
| --- | --- | --- |
| IdentiLynx Video Camera Packages | 289 KB | Download |
| EtherLynx Vision Camera Datasheet | 283 KB | Download |
---
Add time-stamped photo-finish images to your race results this season. Learn more now.
---
"A chip timing system without cameras is like an electronic voting machine that doesn't produce a paper receipt; you can still wonder whether the recorded result matches what actually occurred. But it is pretty hard to refute a photo record of every rider on every lap." 

– Lennard Zinn, Velo News 
---