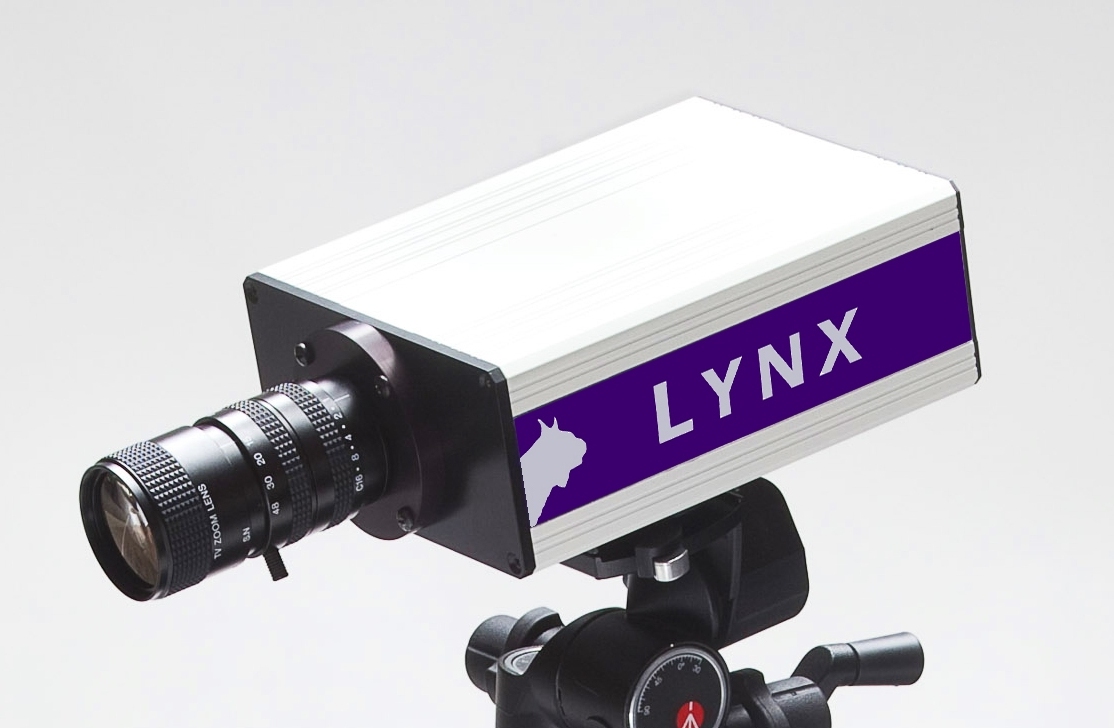 EtherLynx Vision Photo-Finish Camera
The EtherLynx Vision photo-finish camera is a powerful sports timing photo-finish camera with an array sensor that integrates with FinishLynx to produce high-speed results. The Vision has a number of innovative new features to provide next-generation fully automatic timing. It offers full-color photo-finish images by default as well as EasyAlign 2-D Video Alignment Mode, Power-over-Ethernet, Gigabit transfer speeds, LuxBoost low-light amplification, an internal battery option, and much more. The Vision was first released in the US in October of 2014 and will soon overtake the EtherLynx 2000+ as the most commonly used photo-finish camera used in the field today. The camera's advanced features make it well suited for track & field, athletics, cross country, and other running meets.
The Vision photo-finish camera includes new hardware and software features that will make FinishLynx technology more accessible to novice users and even more versatile during track meets. The default camera features will vary by the package configurations and optional upgrades, but see below for a list of some key features available with the 5L500 Vision.
EasyAlign Video Alignment. New EasyAlign Full Frame Video Alignment Mode makes it easier than ever to align your camera on the finish line.
Power-Over-Ethernet. The camera comes standard with a Power-Over-Ethernet (PoE) injector so no AC power is required at the camera location.
Full-Color Images. The EtherLynx Vision camera captures full-color photo-finish images by default. That means all US high school track packages come standard with a color timing camera.
Gigabit Transfers. The Vision offers improved data connectivity and is the first EtherLynx camera to allow for full Gigabit Ethernet transfers (1,000 Mbps).
Silent Operation. Because of the dramatically reduced power consumption of the Vision camera, there is no need for internal fans or cooling, making it our quietest camera yet.
Array Sensor. The Vision is the first Lynx camera to contain an array image sensor. It's what allows users to switch between 1-D and 2-D modes from within the software.
Backwards Compatible. The EtherLynx Vision is compatible with all Lynx cameras made since 1996. Add the Vision to your existing results network and be worry-free.
High-Resolution [Option]. A standard Timing-Enabled, Vision Camera captures 1,000 fps at 640 pixels. Add the High-Resolution upgrade to increase the capture speed to 2,000 fps at 1,280 vertical pixels.
On-board Level [Option]. The Vision's new on-board level feature allows you to monitor that the camera is level directly from within the FinishLynx software.
LuxBoost [Option]. LuxBoost greatly amplifies the brightness during low-light captures. Evening events that were once too dark to capture can now be recorded with ease.
Electronic Filter Control [Option]. The Vision allows you to enable and disable low-light camera filters right from within the FinishLynx software with a click of the mouse.
Wi-Fi (Wireless) [Option]. Connect a small, external Wi-Fi unit to wirelessly transfer timing & results data.
Internal Battery [Option]. The 5L500 has an optional internal battery pack. The internal battery allows the camera to continue running in the event of a power outage.
Phased Light Compensation (PLC) [Upgrade]: Helps correct the strobing effect of artificial phased lighting when capturing finish line images indoors.
Read our blog to see Why the Vision is our Most Popular Camera Yet.
EtherLynx Camera Documentation
| Name | File Size | |
| --- | --- | --- |
| EtherLynx Vision Datasheet | 736.1 KB | Download |
| EtherLynx Vision PRO Datasheet | 732.6 KB | Download |
| EtherLynx Fusion Datasheet | 751.5 KB | Download |
| Etherlynx Pro Camera Datasheet | 717.8 KB | Download |
Software & Camera Setup
| Name | File Size | |
| --- | --- | --- |
| QSG - EtherLynx Vision Camera Setup | 830.7 KB | Download |
| Troubleshooting - Error Booting Cameras | 218.5 KB | Download |
| CS-C Mount Adapter - User Guide | 163.9 KB | Download |
| Lens Focal Length & Frame Rate Calculator (LensCalc.xlsx) | 22.5 KB | Download |
Weight: 1.4 kg
Dimensions: 15.7 × 15.5 × 7.5 cm

Related Products