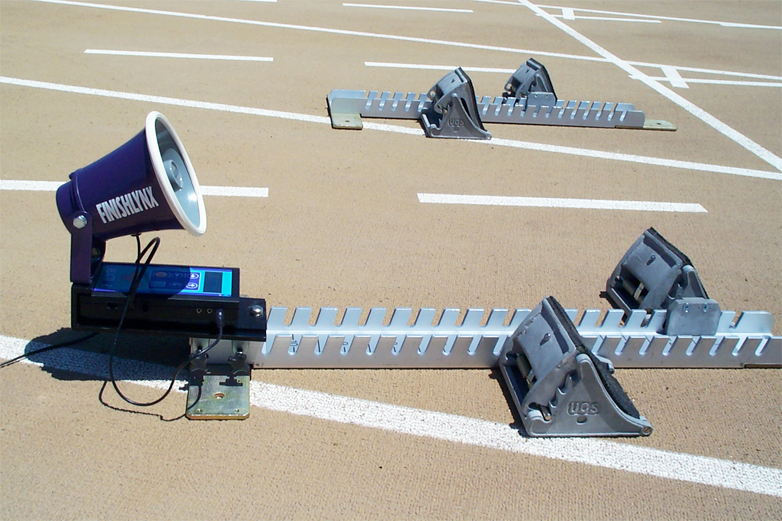 ReacTime: Training System
The ReacTime Training System records athlete reaction data using a block sensors attached to the starting blocks. The Training system uses the same technology as the multi-lane
ReacTime Championship System
, but allows athletes to operate the system autonomously. This is thanks to the automated, customizable start commands, simple integrated LCD interface, and compatibility with our powerful ReacTime
Training Software
to graph and analyze data.
Research has shown that reaction times play a crucial role in the success of sprinters. The shorter the race, the more important an athlete's reaction time becomes, because it "accounts for a greater proportion of the total time of the run" (2004). Studies also show that reaction time is a skill that can be improved with training.
"In sprint events, where hundredths of a second can make the difference between a gold medal and a silver, minimizing reaction time can be the key to an athlete's success." – Dr. Alex Brown, University of Alberta
The ReacTime Training System gives coaches and athletes access to live reaction and false start data so they can not only improve reaction times off the blocks, but also save, graph, and analyze the reaction data to keep track of long-term progress. The system records reaction time, power output, and time-to-distance ratios for each start. And because it can be configured to operate automatically, the Training System can also be used by athletes as a powerful tool during personal and off-season training routines – without the need for a coach to simulate the start.
The block sensors record reaction data and detect false starts to an accuracy of 1/1000th of a second. Reaction data can also be transmitted to the ReacTime Training Software where it can be viewed, graphed, and printed right from the track, or stored for analysis after the training is complete. Because ReacTime technology is modular, multiple training systems can be linked together to facilitate team training and competitive starts.
Measures reaction times to 1/1000th of a second
Detection sensors clip to most popular starting blocks
ReacTime Block Sensor is lightweight and portable
Can be operated autonomously using pre-programmed start commands or with a partner (using verbal commands and gun)
Timing of start commands is randomized within a customizable range
Automated start commands can be personally recorded using the voices of athletes or coaches
Two Personal Training Systems can be linked for competitive training
Can connect to photo-cells or a FinishLynx timing system for fully automatic timing
Personal ReacTime units can be used as components of a full false start detection system
Workout data, including waveforms, can be stored and retrieved later using the Personal Training software
We offer several variations of the ReacTime training system, including the Advanced Training package, and wired or wireless photo-eyes. The basic ReacTime Training System (RT-T) includes:
ReacTime Training Package (RT-T) Contents
1 Block Sensor
1 ReacTime Training Case
1 Block Mounted Speaker
1 Block Sensor Clamp
1 ReacTime Start Button
1 ReacTime Serial Cable
1 USB-to-Serial Converter
1 ReacTime Signal Input Cable
1 12V Power Supply
ReacTime Datasheets
| Name | File Size | |
| --- | --- | --- |
| ReacTime Product Datasheet | 664.1 KB | Download |
ReacTime Manuals
| Name | File Size | |
| --- | --- | --- |
| ReacTime Training 1.30 Release Notes | 533.0 KB | Download |
| ReacTime 1.20 Manual | 2.8 MB | Download |
| ReacTime Firmware 2.0 Release Notes | 122.2 KB | Download |
| ReacTime Firmware 1.4 Release Notes | 340.4 KB | Download |
| Spanish - ReacTime Software Manual Version 1.30 | 2.7 MB | Download |
ReacTime Quick-Start Guides
| Name | File Size | |
| --- | --- | --- |
| QSG - ReacTime Training Setup | 192.4 KB | Download |
ReacTime Software
| Name | File Size | |
| --- | --- | --- |
| ReacTime Training Software 1.32 | 1.7 MB | Download |
| ReacTime Block Sensor Firmware 2.0 | 28.6 KB | Download |
| Spanish Language file for ReacTime Championship Software | 33.3 KB | Download |
Product Version: 3.6.4