What is Fully Automatic Timing (FAT) for Sports?
Fully Automatic Timing (FAT) is a popular type of sports timing that captures digital race results that are accurate to at least 1/100th of a second (0.01), but preferably 1/1000th of a second (0.001). Fully Automatic Timing systems require a start signal, running time, and capture device to be digitally synchronized to ensure accuracy. True FAT also requires the timing device be activated automatically by a start signal, rather than manually (e.g. as with a stopwatch). The finish time must also be captured electronically to remove any human error or delay. Due to such a high level of accuracy, Lynx technology can be used for a wide variety of sports, and there are packages available for application to any situation. An example of a fully automatic timing system for track and field can be seen to the right.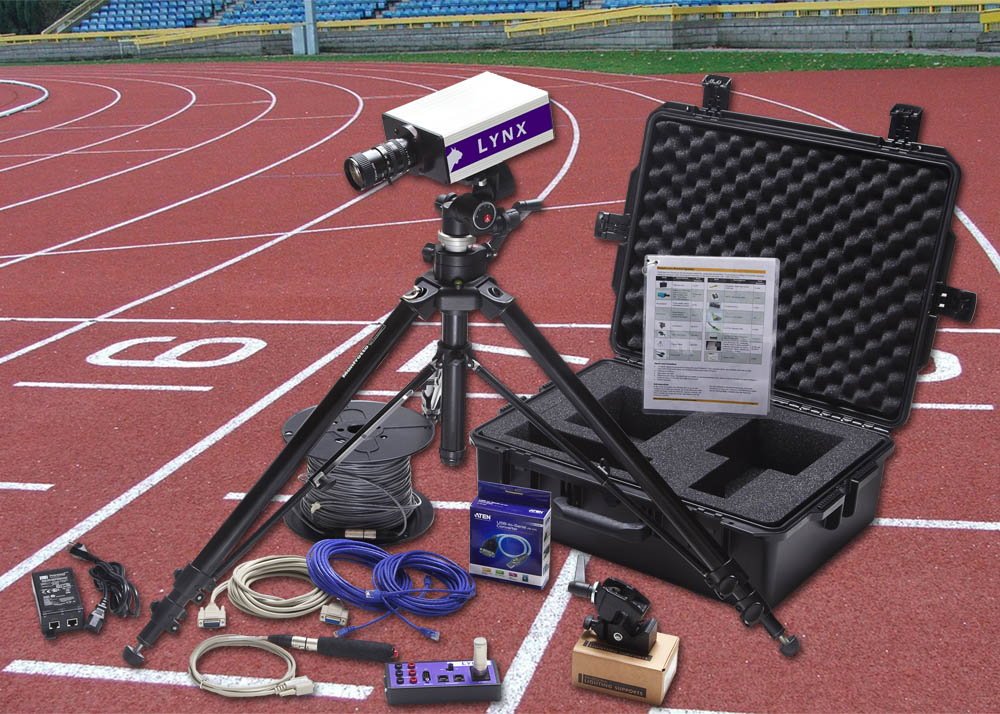 What are the Core Components of a Fully Automatic Timing System?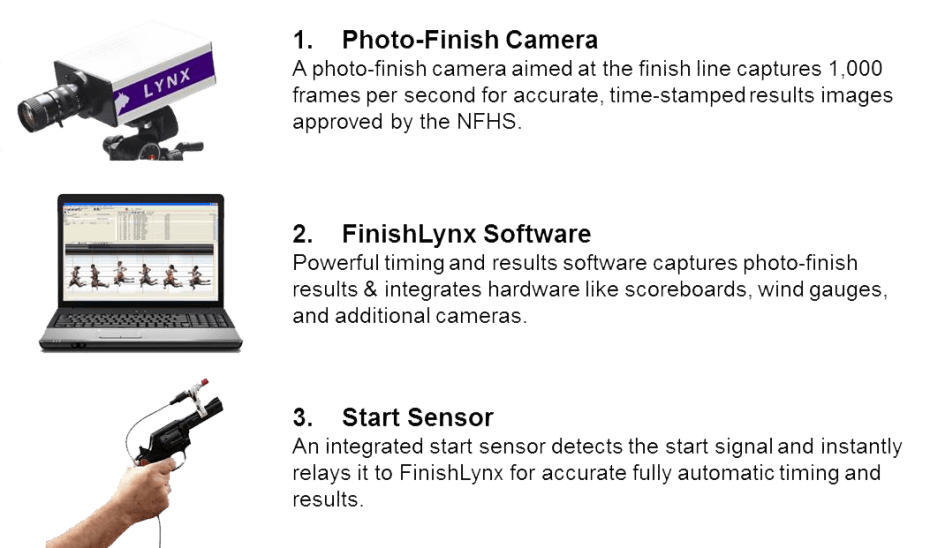 Are There Different Kinds of Fully Automatic Timing Systems?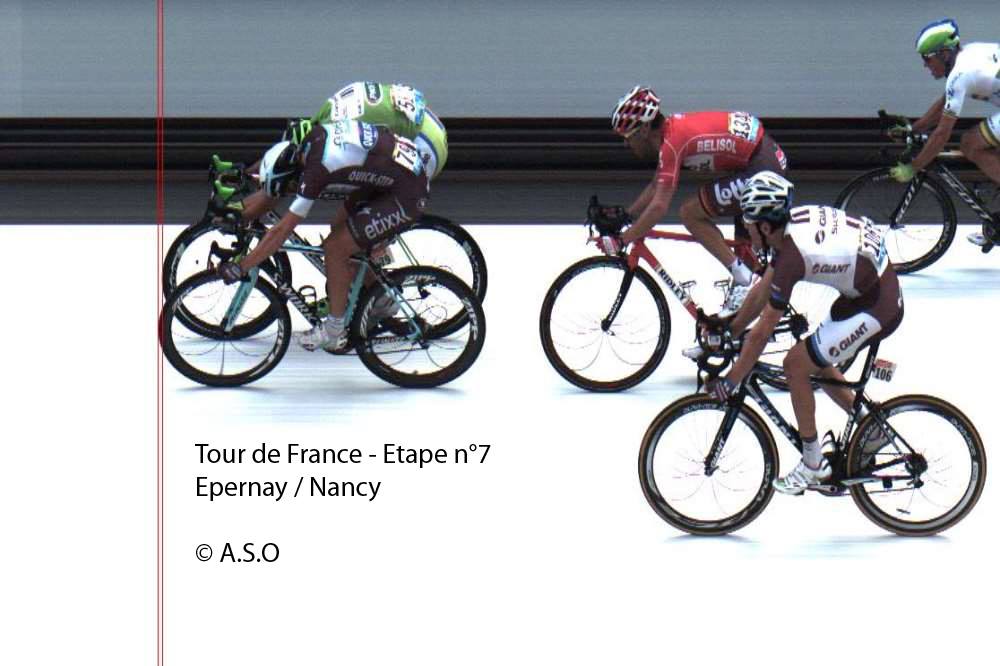 Fully Automatic Timing systems are used to produce results at every level of Athletics, Cycling, Horse Racing, Rowing Regattas, Motorsports, Speed Skating, and almost any other sport with a finish line. There are many variations of sports timing systems, all of which record finish times a little differently depending on the sport or configuration. Some of these variations include photocells, full-frame video cameras, touchpads (swimming), and digital line-scan cameras. Ultimately, digital line-scan cameras—the same technology used by FinishLynx—are the most popular and accurate kind of sports FAT systems in the world today.
Which Sports Timing Systems are Most Accurate?
Full-frame video timing systems can only capture between 30–120 frames per second. That means very tight race results can potentially be lost between the missing video frames. Meanwhile, line-scan photo-finish cameras usually capture at around 1,000–2,000 frames per second, producing more clear and precise results images. Our own EtherLynx Vision PRO camera captures up to 20,000 frames per second—making it the most accurate sports timing camera in the world.
The speed and accuracy of line-scan photo-finish cameras simply cannot be matched by any type of RFID, photocells, or 2D video cameras on the market today. In fact, many sports governing bodies like World Athletics do not consider photocells or video timing systems to be valid FAT because they cannot perform zero-control gun tests to confirm their accuracy. That is why line-scan FAT systems like FinishLynx are trusted by worldwide elite sporting events.
How Does a Line-Scan Photo-Finish Camera Work?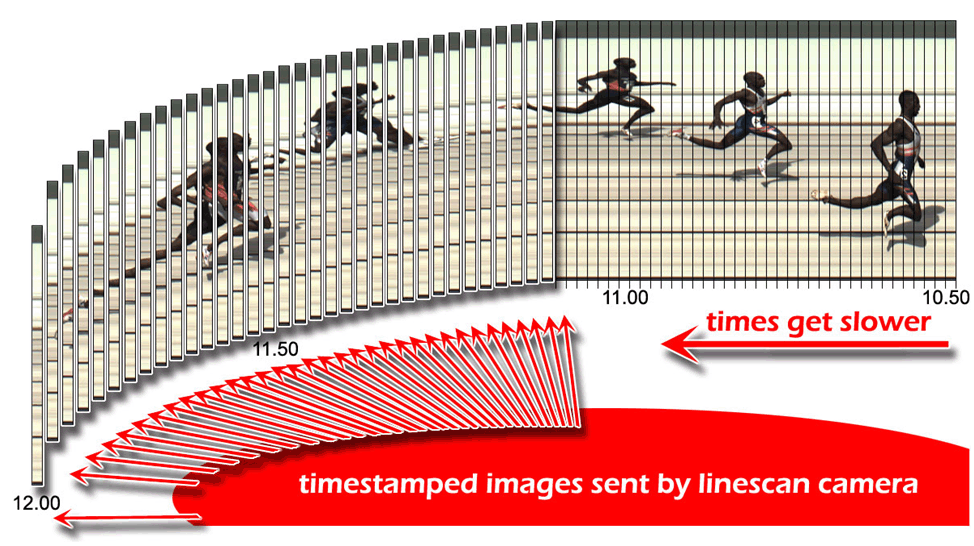 A line-scan photo-finish image is comprised of a series of incredibly thin vertical image slices from the finish line (and any object that is crossing it). EtherLynx line-scan cameras capture these vertical images a thousand times per second or more. Each image slice is timestamped, then combined to create a long, highly precise photo-finish image. As more and more 1-pixel-wide vertical slices are captured and combined, the complete timestamped FinishLynx capture begins to take shape. Click on the image for a closer look.
For instance, if it takes an athlete one full second for their body to cross the finish line, then it will take 1,000 of these thin vertical image slices to create their entire body on the photo-finish image. Since each sliver is timestamped, you can produce results accurate to within 1/1000th of a second with your FinishLynx camera.
Take a look at the animated gif below. It simulates how a line-scan camera captures and builds the photo-finish results image:

Is it Easy to Capture Photo-Finish Results with FinishLynx?
Fully automatic race timing is very easy with FinishLynx. EtherLynx cameras capture a photo-finish results images, which is immediately sent to the FinishLynx software for evaluation. This software displays the time-stamped photo-finish image right in the interface. The user can click anywhere on an image and see the time. Click on any competitor, and you can see the exact moment a torso, tire, ski, or skate crossed the finish line.
Begin capturing by clicking the mouse or Spacebar
Locate each competitor and view finish times to .001
Evaluate each athlete by clicking and adding a red line
Save & print results – accurate to 1/1000th of a second
Can I See Some Sample Photo-Finish Results Images?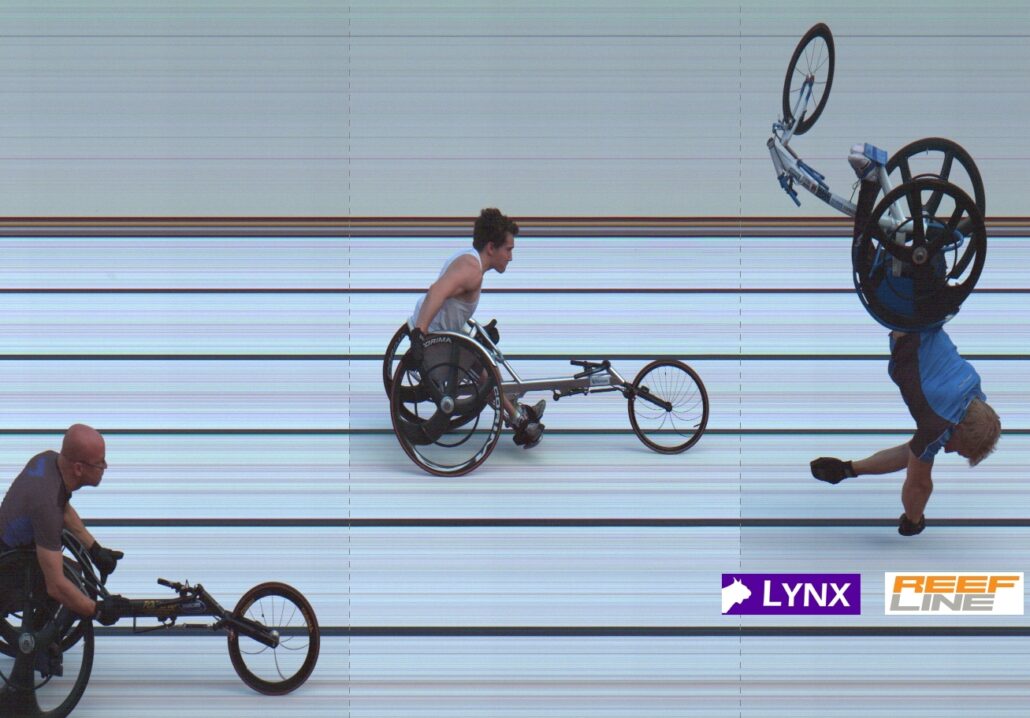 Where Can I Find Fully Automatic Timing Systems For My Sport?
Click the images below to the see the all-inclusive FinishLynx timing packages available for each sport. Packages can also be customized to meet the needs of your venue or budget-level. Find your perfect FAT system now.