New year, new goals! You don't need 2020 vision to see that the accuracy and reliability of FinishLynx timing equipment is essential at any track meet at every level. Soon enough it will be the spring track season, and if you're honest with yourself, are you ready for that? Get your camera off the shelf and on the track! Don't worry, we're here to help.
Follow these steps to become a FinishLynx wiz for this track season:
1. Take your camera off the shelf.
This may seem obvious, but we feel as though it needs to be said. Whether you are a seasoned Lynx user, or a novice learner, now is the perfect time! We understand that everyone comes from different backgrounds and levels of timing experience, so we have numerous resources available for users to become more familiar with their equipment. That is why we are presenting you with every resource we have available, all on one page. Speaking of, that leads us into our next step…
2. Start the learning process or refresh your brain with our online resources.
Quick Start Guides – Lucky for you, we have a QSG for every product that we ship! There should be one included with the equipment you purchased, but they are also located on our website for any time that you may need to take another look. These documents are essential for learning how to use FinishLynx systems. We provide step-by-step instructions on how to set up the technology and get it up and running for your race.
Online Manual – Another go-to resource for becoming a FinishLynx master is our online, searchable, mobile-friendly software manual. This manual is provided to help first time users set up and run FinishLynx so that it will become as familiar and easy to use as a computer. You can begin with the "Getting Started" section, or you can look up more specific topics if you're having trouble with a particular piece of equipment or system. This manual stays up-to-date and new information is added each time the FinishLynx software is updated.
YouTube Tutorial Videos – More of a visual learner? Not a problem. Our YouTube channel has plenty of technical support videos from the basic hardware setup to more advanced functions within the FinishLynx software. We even have a playlist called "New User FinishLynx Timing System Setup". Head over to our channel and break out the popcorn to start learning the ins and outs of preparing your hardware and software for your next meet.
Frequently Asked Questions (FAQs) – Since we have quite a bit of experience providing technical support for FinishLynx products and accessories (28 years to be exact), we have put together some of the more common questions that our tech support team has run into over the years. This includes topics about purchasing FinishLynx, Camera Setup, FinishLynx Software & Networking, and more. Fore more detailed information on how to set up your timing system, you should refer back to our Quick Start Guides, or, as always, our technical support team is just one phone call away.
3. Get to know our technical support team.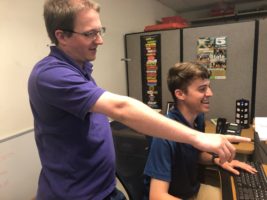 Call or Email – Speaking of technical support, here's how to get in contact with them! We pride ourselves on our ability to help customers in unlocking the full potential of FinishLynx technology. We have 24/7 support via our main line: (978) 556-9780. The team can also be reached by emailing support@finishlynx.com.
Technical Support Training – Still stumped? Lynx does offer on-site group training for new FinishLynx users. Please submit a form here and a member of the Lynx training staff will be in touch shortly.
4. Get Social!
Over the many years that Lynx has been around, we've watched as the community of timers and operators has grown. On Facebook, we even have a FinishLynx Sports Timers group where members can post technical questions or brag about their latest race (we love the photos- please keep them coming!) You may even be able to get in touch with a Lynx user in your area who could train you on how to use your system or just give some helpful tips.
In addition to Facebook, you can also connect with us on Twitter, Instagram, and LinkedIn. Every Friday, we tweet a timing tip of the week, which can be helpful for timers to discover specific resources we have online or practical tips that they wouldn't have known about otherwise. On Instagram, we love re-posting our customers' content, so once you figure out your system and are ready to show off a little bit, be sure to tag us or use the #FinishLynx hashtag.