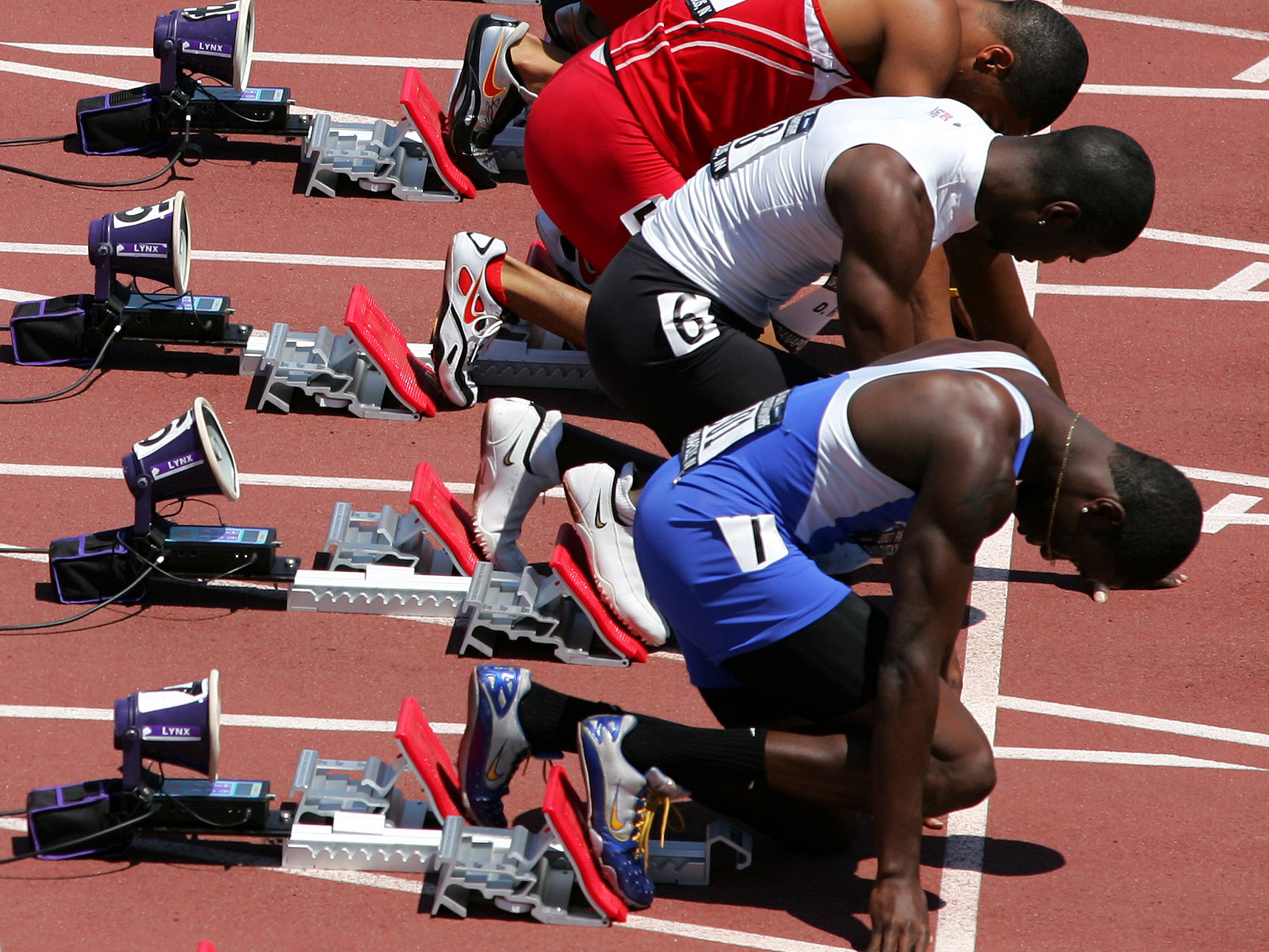 ReacTime False Start Detection System
The ReacTime False Start Detection System captures reaction times and start data using internationally patented technology in sensor units attached to athlete starting blocks. The system is comprised of block sensors on each starting block, a command center and has an integrated Public Address system to facilitate clear transmission of the Starter's Commands to the athletes. During a start, the ReacTime technology relays athlete reaction data to the Command Center where it instantly analyzes starts in accordance with World Athletics rules every 1/1000th of a second. Reaction data is also transmitted to the
ReacTime Championship Software
where it can be viewed, graphed, and printed by meet officials right from the track. ReacTime integrates seamlessly with FinishLynx start and photo-finish data to create a powerful, World Athletics-approved results network at your venue—allowing you to capture events from start to finish.
ReacTime interfaces with FinishLynx results  for seamless integration of athlete data. The individual Block Sensors can also be used as a reaction training system. Unlike some simpler systems, ReacTime has no contact pads and the system cannot be tricked or overloaded. The system is rugged and easy-to-use. The battery or AC powered blocks are weather-resistant and designed to withstand the tough demands of a year-round athletics environment.
We offer many ReacTime package variations, including 6-Lane Wired (RT6L), 8-Lane Wired (RT8L), ReacTime Training Packages, and many custom variations for both larger and smaller venues.
Detects illegal reaction times and alerts the starter (USATF Rule 162.14 and World Athletics Technical Rule 16.6)
Measures reaction times to 1/1000th of a second
Detection sensors attach to most popular starting blocks
ReacTime Control Center is lightweight and portable
AC powered or battery-operated
Includes headset for the start official
ReacTime Software allows athlete waveform start data to be graphed, compared, saved, and printed
Loudspeakers attach to blocks to ensure athletes hear gun and start commands
Paper tape printer allows track-side printing
RT6L – Complete 6-lane ReacTime Wired False Start System – Contents"
6 Block Sensors
6 Block Mounted Speakers
1 False Start Command Center
6 Block Sensor Clamps
1 Starter's Headset
1 ReacTime Line Printer
6 Block Sensor Cables (5.5meter)
1 Command Center Cable (30 meter)
6 Block Sensor Cables (13meter)
2 ReacTime System Cases
1 ReacTime Power Supply & Charger
2 Speaker Cases
1 ReacTime Serial Cable
1 USB to Serial Converter 1 Port
1 ReacTime Signal Input Cable
1 ReacTime Software License
1 Normally Closed Start Sensor
1 XLR-3 Start Cable – 100 foot
"In competitions held under paragraphs 1.1, 1.2, 1.3 and 1.6 of International Competition definition and for any performances submitted for ratification as a World Record under Rules 32 and 34 of the Competition Rules, the starting blocks shall be linked to to a World Athletics certified Start Information System. This system is strongly recommended for other competitions.

Note: In addition, an automatic recall system, within the Rules, may also be used." –World Athletics TR15.3 (2020)

"When a World Athletics certified Start Information System is in use, the Start and/or an assigned Recaller shall wear headphones in order to clearly hear the acoustic signal emitted when the System indicates a possible false start (i.e. when the reactime time is less than 0.100 second). As soon as the Start and/or Recaller hears the acoustic signal, and if the gun was fired, there shall be a recall and the Starter shall immediately examine the reactime times and other available information from the Start Information System in order to confirm which, if any, athlete(s) is/are responsible for the recall.

Note: When a World Athletics certified Start Information System is in operation, the evidence of this equipment shall be used as a resource by the relevant officials to assist in making a correct decision." -World Athletics TR16.6 (2020)
ReacTime Datasheets
| Name | File Size | |
| --- | --- | --- |
| ReacTime Product Datasheet | 664.1 KB | Download |
ReacTime Manuals
| Name | File Size | |
| --- | --- | --- |
| ReacTime Championship 2.02 Release Notes | 150.8 KB | Download |
| ReacTime Championship 2.00 Release Notes | 173.8 KB | Download |
| ReacTime 1.20 Manual | 2.8 MB | Download |
| ReacTime Firmware 1.40 Release Notes | 340.4 KB | Download |
| ReacTime Firmware 2.00 Release Notes | 122.2 KB | Download |
| Spanish - ReacTime Software Manual Version 1.30 | 2.7 MB | Download |
ReacTime Quick-Start Guides
| Name | File Size | |
| --- | --- | --- |
| QSG - ReacTime Championship Setup | 2.4 MB | Download |
| QSG - ReacTime Official Starter Instructions | 12.6 KB | Download |
| QSG - ReacTime Recall Starter Instructions | 12.7 KB | Download |
ReacTime Software
| Name | File Size | |
| --- | --- | --- |
| ReacTime Championship Software 2.04 | 1.8 MB | Download |
| ReacTime Block Sensor Firmware 2.00 | 28.6 KB | Download |
| ReacTime Command Center Firmware 2.00 | 28.4 KB | Download |
| Spanish Language file for ReacTime Championship Software | 33.3 KB | Download |
Related Products