XC Triad – Cross Country Meet Timing System

Cross Country Race Timing with Photo-Finish, Video, & RFID Chip Integration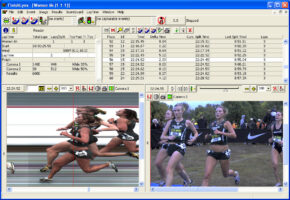 The FinishLynx Triad is an integrated Cross Country timing system that combines three popular digital products to improve the speed and accuracy of meet results. The Lynx Triad makes Cross Country timing easier by combining photo-finish, video, and RFID chip results in a single interface. The finish line at a cross country meet can be a confusing place with multiple finishers crossing at the same time. Athletes can finish fractions of a second apart and accurate team scores often depend on individual results. This makes fast and accurate identification crucial for any cross country meet.
The FinishLynx Cross Country Triad includes :
EtherLynx Photo-Finish Camera: Captures digital results images accurate to 1/1000th of a second or more and safeguards against transponder failures
IdentiLynx Full-Frame Video Camera: Produces head-on, time-synced video that makes athlete identification even easier
RFID Transponders: Reusable, weather-proof chips and mats provide athlete data overlaid on the Lynx image
These three components combine to create the FinishLynx Cross Country Triad. FinishLynx is currently compatible with the following transponder systems: MYLAPS, Chronolec, ChronoTrack, DAG, IPICO/TRIDENT, RMonitor, Race Results, and TAG HEUER. To see if your RFID system can interface with FinishLynx, please contact Technical Support.
Downloads
| Name | File Size | |
| --- | --- | --- |
| Lynx Triad Solution | 649 KB | Download |
| IdentiLynx Video Camera Packages | 289 KB | Download |
---
Ask About the Lynx Triad Solution