XC Triad – Cross Country Meet Timing System

Cross Country Race Timing with Photo-Finish, Video, & RFID Chip Integration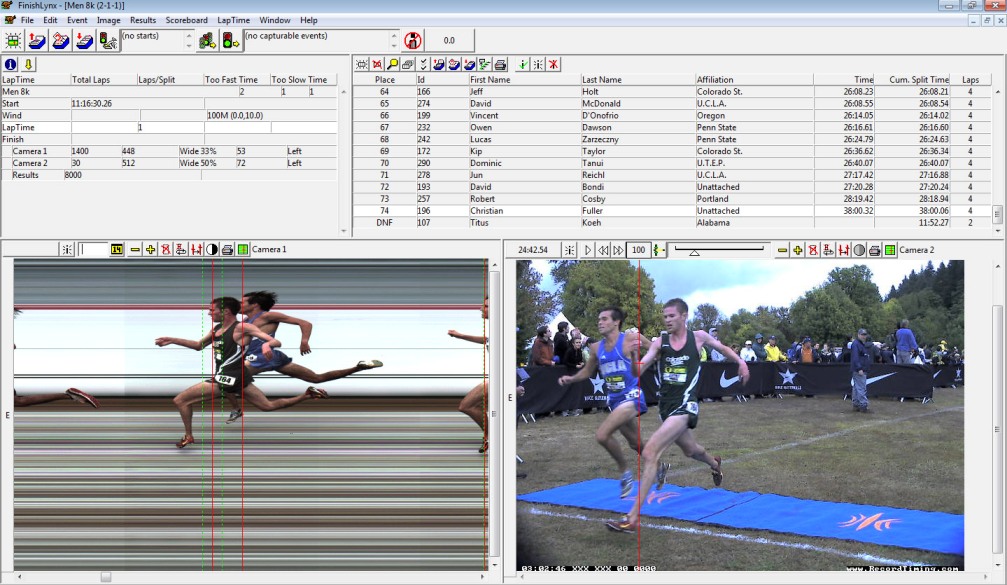 The FinishLynx Triad is an integrated Cross Country timing system that combines three popular digital products to improve the speed and accuracy of meet results. The Lynx Triad makes Cross Country timing easier by combining photo-finish, video, and RFID chip results in a single interface. The finish line at a cross country meet can be a confusing place with multiple finishers crossing at the same time. Athletes can finish fractions of a second apart and accurate team scores often depend on individual results. This makes fast and accurate identification crucial for any cross country meet.
The FinishLynx Cross Country Triad includes :
EtherLynx Photo-Finish Camera: Captures digital results images accurate to 1/1000th of a second or more and safeguards against transponder failures
IdentiLynx Full-Frame Video Camera: Produces head-on, time-synced video that makes athlete identification even easier
RFID Transponders: Reusable, weather-proof chips and mats provide athlete data overlaid on the Lynx image
These three components combine to create the FinishLynx Cross Country Triad. FinishLynx is currently compatible with the following transponder systems: Chronolec, ChronoTrack, DAG, IPICO/TRIDENT, MyLaps, RMonitor, Race Results, and TAG HEUER. To see if your RFID system can interface with FinishLynx, please contact Technical Support.
How FinishLynx Captures Seamless Cross Country Results at the Dellinger Invitational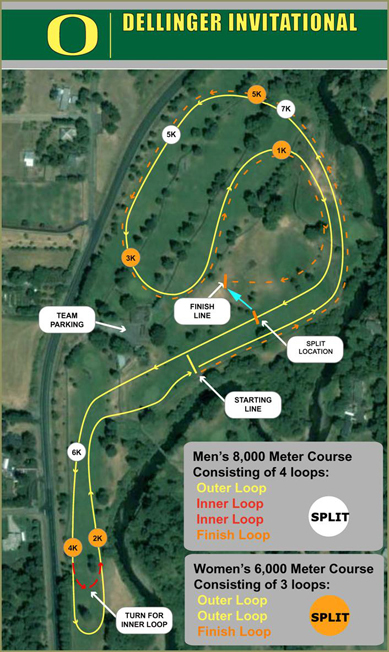 The Bill Dellinger Invitational Cross Country meet is a major collegiate cross country competition hosted by the University of Oregon, consisting of a men's 8-kilometer and a women's 6-kilometer race. The event is held on a 2,000 meter looped course that circles the back-nine of nearby Springfield Country Club in Eugene. As the map shows (click to enlarge), the women's race is three loops, while the men's is four. And with a total of ten ranked teams from regions across the country in attendance (including the top-ranked Ducks), the Dellinger Invitational is certainly a meet where every second counts.
Challenges
Producing timely and accurate results for the sport of Cross Country has always been challenging. Indeed, the wet, muddy conditions at the 2008 meet were yet another obstacle for event administrators. With so many athletes in a race, the ability to simultaneously a) rapidly identify competitors, b) provide accurate times and finish order, and c) link every athlete with their respective finish times, has historically seemed beyond the scope of any single technology. But by linking three complementary products together, Lynx has created a synergistic solution that is greater than each of these systems working independently.
Finally, A True Cross Country Results Solution
The Dellinger Invitational is one of many large-scale cross country meets that relies on the FinishLynx triad to produce fast, accurate, and efficient results. The FinishLynx Triad solves the problems inherent to all Cross Country meets by integrating real-time tracking, timing, and visual verification data into a powerful, intuitive interface. View the software screenshot below to see how quickly and accurately we can evaluate a cross country race when combining FinishLynx images, IdentiLynx video, and RFID chip times.
Read the Case Study Document (.pdf)
---
Evaluate A Large Cross Country Race in Minutes