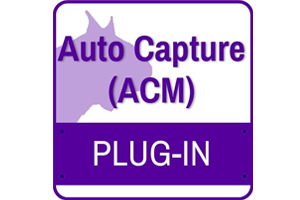 Plugin: Auto Capture Mode
The Automatic Capture Mode (ACM) Plug-in for FinishLynx enables the software to detect and record all finish line activity automatically so you no longer need to press and hold a capture button to record photo finish images. The ACM plug-in also allows your camera to be used as a "virtual photo-eye" that will instantly broadcast running-times, splits, and finish times to any compatible displays at your venue.
Automatic Capture
The Automatic Capture plug-in turns your EtherLynx camera into a powerful, motion-activated capture device that automatically detects any motion near the finish line and records the images to your computer via the FinishLynx software. With ACM, any activity at the finish line will trigger the camera into action.
Still afraid you might miss something? Don't worry. EtherLynx cameras are equipped with on-board memory, so the FinishLynx software will also record images from a few seconds before and after any activity is detected to provide a buffer zone around each capture. This buffer time is even customizable via the FinishLynx interface. Adding the ACM plug-in allows you to put down the capture button and breathe easy, knowing that you'll never miss a capture again.
Virtual Photo-Eye
The powerful motion-detection features unlocked by the ACM plug-in also allows the EtherLynx camera to function like a virtual photo-eye. Because FinishLynx integrates all aspects of the results network (start, timing, displays, etc.), the motion detection capabilities added by ACM can turn your camera into a virtual photo-eye that, when triggered, will automatically broadcast running times or finish times across the network.
This one software plug-in adds a powerful automation features to your FinishLynx system. Put down your manual capture button and add ACM to automatically detect, capture, and display fully automatic timing results at your venue. It's no surprise that many customers cite ACM as their favorite FinishLynx plug-in:
"Once we got [ACM] we have never missed a finish. It makes completing the results faster also." – Kevin, FinishLynx Customer

"I don't know how I could time a track meet without this feature!"
–Aaron, FinishLynx Customer
Please note that FinishLynx software plugins require a serial number in order to be activated. If you would like to purchase a plugin or retrieve the serial number of a past order, please contact us.
FinishLynx-ACM
| Name | File Size | |
| --- | --- | --- |
| FinishLynx Software Plugins | 141.9 KB | Download |
Product Version: 3.8.2

Related Products