EtherLynx Vision PRO Photo-Finish Camera
The
EtherLynx Vision PRO
photo-finish camera is the perfect edition to an elite-level sports timing system because it combines the user-friendly features of the
EtherLynx Vision
with the speed and power of the
EtherLynx PRO
. It is the first sports timing camera capable of capturing
20,000 frames per second
. The Vision PRO comes standard with 3,000 fps captures, LuxBoost4, On-Board Level, and Electronic Filter Control. It is the latest in a long line of EtherLynx cameras and it brings powerful new features to the world of high-speed sports timing.
Along with the EasyAlign and LuxBoost features, Vision cameras offer hardware and software improvements that make FinishLynx timing systems more intuitive than ever. The standard Vision PRO photo-finish camera captures 3,000 frames per second at 1024 pixels high. The Vision PRO also includes premium features like LuxBoost4 low-light capture mode, an on-board level, and Electronic Filter Controls all standard. There are also two high-resolution upgrades that increase capture rates to 6,000 fps (at 2048 pixels high) and an unprecedented 20,000 fps. The high frame rate (20k) and advanced capture settings make the Vision PRO photo-finish camera an excellent choice for high-speed timing applications like horse racing, cycling, motorsports, and more.
High-Speed Captures. The Vision PRO comes standard with 3,000 fps and can be upgraded to 6,000 or 20,000 fps, making it ideal for motorsports, horse racing, and other high-speed events.
EasyAlign Video Alignment. EasyAlign Video Alignment Mode makes it easier than ever to align your camera on the finish line.
Power-Over-Ethernet. The camera comes standard with a Power-Over-Ethernet (PoE) injector so no AC power is required at the camera location.
Gigabit Transfers. The Vision PRO allows for full Gigabit Ethernet transfers (1,000 Mbps).
LuxBoost. LuxBoost greatly amplifies the brightness during low-light captures. Evening events that were once too dark to capture can now be recorded with ease. View a sample LuxBoost capture.
On-Board Level. The Vision PRO has an on-board level feature that allows you to monitor that the camera is level directly from within the FinishLynx software.
Electronic Filter Control. The Vision allows you to enable and disable low-light camera filters right from within the FinishLynx software with a click of the mouse.
External Wi-Fi [Upgrade]: Add the Lynx-certified external wi-fi unit to enable the Vision PRO camera to send results data wirelessly over the network. The unit is compact, easy to use, and connects to the back of the camera. Recommended for far-side or backup cameras only.
Video Display Module [Upgrade]: The Video Display Module (VDM) enables the live display of FinishLynx running time, results, and images on a video display connected to the HDMI port of Vision cameras.
Electronic View-Finder Mode [Upgrade]: The Electronic View-Finder mode upgrade (5LEVF) allows timers to connect a small video viewer to the camera HDMI port for easier camera alignment in challenging locations. It functions like a digital "through the lens viewer" that can be used to align the camera in 2D mode without using the software.
Internal GPS [Upgrade]: Sync with GPS times for use with Motorsports and Time of Day events.
Internal Battery [Upgrade]. The 5L600 has an optional internal battery pack. The internal battery allows the camera to continue running in the event of a power outage.
Phased Light Compensation (PLC) [Upgrade]: Helps correct the strobing effect of artificial phased lighting when capturing finish line images indoors.
Frame Offset [Upgrade]: Allows the active area of the sensor to be specified rather than defaulted to center.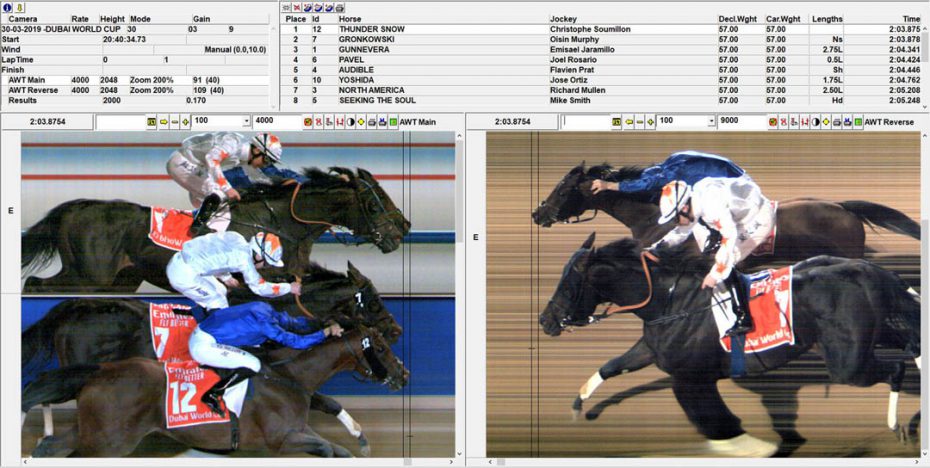 EtherLynx Camera Documentation
| Name | File Size | |
| --- | --- | --- |
| EtherLynx Vision PRO Datasheet | 732.6 KB | Download |
| EtherLynx Vision Datasheet | 736.1 KB | Download |
| EtherLynx Fusion Datasheet | 751.5 KB | Download |
| Etherlynx Pro Camera Datasheet | 717.8 KB | Download |
Software & Camera Setup
| Name | File Size | |
| --- | --- | --- |
| QSG - EtherLynx Vision Camera Setup | 830.7 KB | Download |
| Troubleshooting - Error Booting Cameras | 218.5 KB | Download |
| CS-C Mount Adapter - User Guide | 163.9 KB | Download |
| Lens Focal Length & Frame Rate Calculator (LensCalc.xlsx) | 22.5 KB | Download |
Product Version: 3.8.0
Weight: 1.4 kg
Dimensions: 15.7 × 15.5 × 7.5 cm
Max Frame Rate: 3,000, 6,000, 20,000
Vertical Pixels: 1024, 2048
Available Lens Mounts: CS-Mount, C-Mount, F-Mount
Power Inputs: 802.3at PoE, 100-240 VAC with optional adaptor, 12v DC input, Optional Internal Rechargeable Battery Backup, Optional External Battery Backup
802.11 Wireless Connectivity: Optional Upgrade

Related Products