Athletics Timing Systems for Field Events
Complete These packages presented by Lynx are all-inclusive and contain everything you need for high definition photo finish and results production. Planned to meet every budget and situation, they represent the very latest technology, and are designed to be fully upgradeable to a higher specification at any time
Approved All FinishLynx cameras, starting systems, split timing devices, and wireless technologies contained in these packages meet or exceed the technical standards of World Athletics.
Unique Lynx Digital Technology leads the world. No other photo-finish technology can offer the same quality of image resolution; such an extensive array of wireless connectivity alternatives; the range of affordable lens and viewer options; or such an extensive list of language integration.
---
Field Packages
Lynx offers six packaged Field Event solutions to choose from ranging from the most basic Competition Package to the extensive Grand Prix Elite Package. Packages can customized to suit your particular needs and can be built onto as your program or needs grow over time. Click on the diagrams below to view the brochure for that package and please contact us to discuss your options.
---
VeriLynx Packages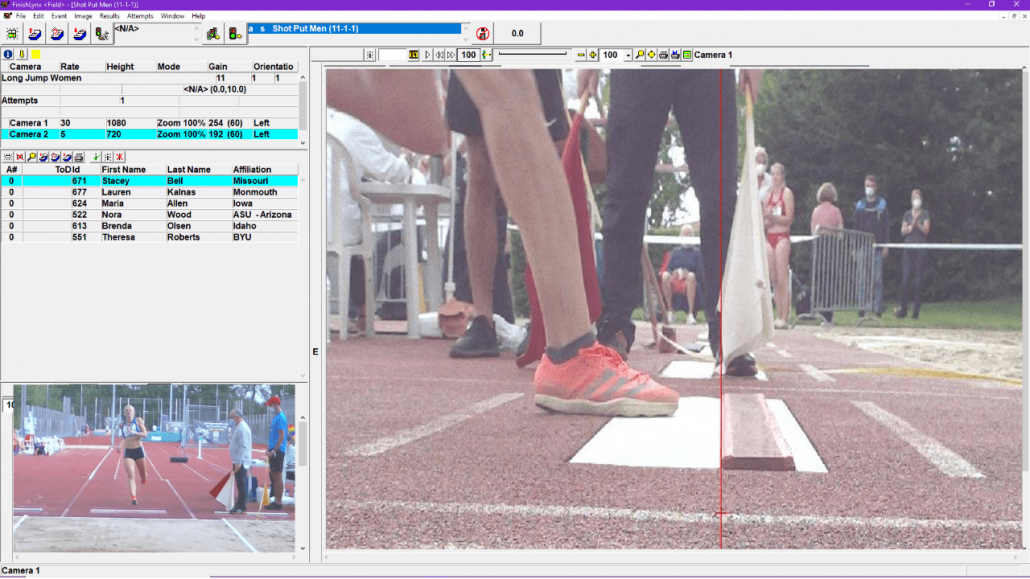 Under World Athletics Technical Rule 30.1.1, horizontal jump take-off failures are re-defined to include any breaking of the vertical plane of the take-off line. Rule 29.5 strongly encourages judges to use video or other technology to assist the decision process. VeriLynx Field Event Verification cameras, along with special configuration of the FinishLynx software, can be used for this purpose.
The VeriLynx camera is an Ethernet-based, full-frame digital video camera that integrates with the FinishLynx software to produce time-stamped videos. FinishLynx software version 12.00 and later includes the VeriLynx profile. This profile is customized to support the use of VeriLynx cameras for video review of field events, such as the verification of take-off fouls in the Long or Triple Jump events (see image to right).
View the VeriLynx Packages Below
---
Related Products