November 2021 – Taking effect November 1, 2021, World Athletics (WA) Technical Rule 30.1.1 states that horizontal jump take-off failures are re-defined to include any breaking of the vertical plane of the take-off line. In addition, Rule 29.5 strongly encourages judges to use video, or other technology, to assist in the decision process.
As a response, the latest version of FinishLynx (FL 12.00) includes a new profile called VeriLynx. This profile is customized to support the use of IdentiLynx cameras for video review of field events. Read below to find out more about VeriLynx and other updates included in FinishLynx 12.00. The latest version of FinishLynx can be downloaded from our FinishLynx Software page.
---
Profiles
FinishLynx supports the concept of profiles. A profile can be created and used to store configuration and camera settings, as well as an associated language file or splash screen. When a profile is used, all of the settings are saved to the current profile when FinishLynx is closed, and re-loaded the next time FinishLynx is started. This makes it easy to switch from one application to the next (such as Track to Cross Country and back, for example).
VeriLynx Profile
Field Event Video Verification
FinishLynx includes the VeriLynx profile. This profile is customized to support the use of IdentiLynx cameras for video review of field events, such as the verification of take-off fouls in the Long or Triple Jump events. Align the IdentiLynx camera with the take-off board, load the field event start list, capture, verify, and timestamp every attempt. VeriLynx will save all images to disk in real-time (no image loss) and allow you to quickly review every attempt for every athlete, providing proof in case of a foul.
VeriLynx also has the option of exporting a JPEG of each attempt automatically when marking a frame, and keeping multiple IdentiLynx image panes synchronized (time tracking) to view multiple angles.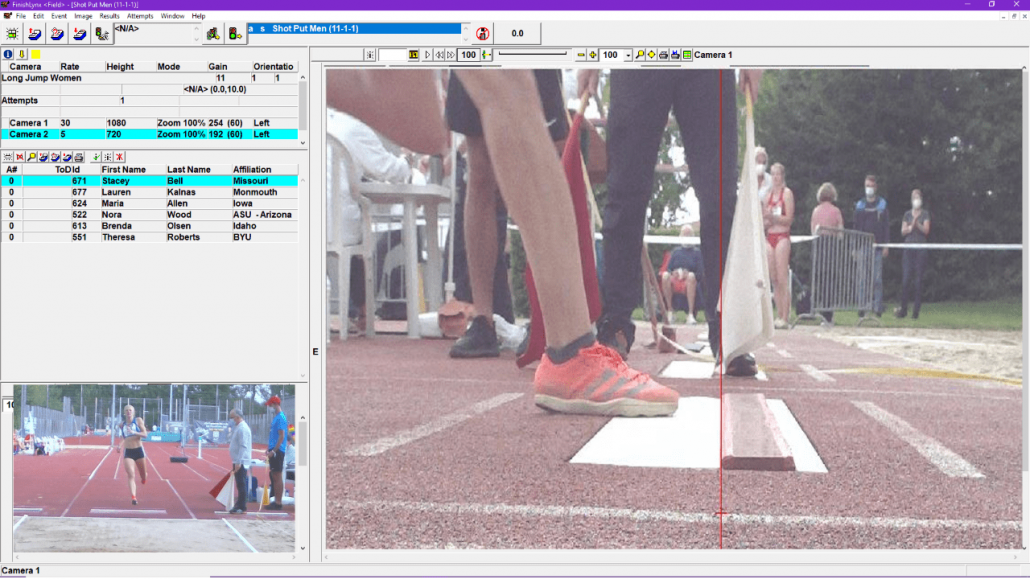 Pre-configured profile available with standard FinishLynx installation giving a customized user interface for field events
Ability to load field events from the field event schedule file (fldlynx.sch)
Ability to view a vertical line in alignment mode for IdentiLynx cameras to facilitate camera alignment with the take-off board (see image above)
Ability to capture and review all attempts from a flight into the same FinishLynx event
Ability to set the ACM active area so it is limited to the image's vertical area of the take-off board
Ability to mark/log attempts with the time of day to allow quick review of all attempts for each athlete during or after the event
Ability to display the attempt number of each attempt in the Results Zone and on the image using Line Labels
Ability to automatically export an image (jpg) when an attempt is marked/logged
Ability to time track (scrolling through an image of one camera refreshes the other image panes with the equivalent frame) between images of multiple cameras to easily review different angles, including the option of using a front-facing camera to identify the athlete
---
LapTime & Scoreboard Status
LapTime objects now show the connection status in the Status bar.
In addition to existing states (not loaded, not running, running), the Status in the object box for the LapTime and Scoreboard Options tabs can now show Not Connected if the TCP connections are not connected, but otherwise loaded and configured.
Additionally, there have been updates made to scoreboard scripts, Remote Control Commands, and the Lynx Data Port (LDP) Plug-in, plus Advanced Other Settings.
---
Downloads & Resources
If you require additional support, please contact Tech Support.