Tips and Tricks for New Timers
Advice To New Timers – Provided by Expert Lynx Service Providers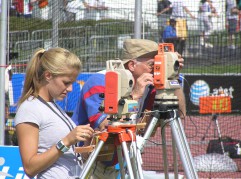 FinishLynx is one of the most powerful and precise sports timing systems available today. That's why our fully automatic timing systems are used around the world, in every major sport with a finish line. But no matter how many cameras or upgrades you add, FinishLynx is only as powerful as the person behind the capture button. To take full advantage of FinishLynx and all its features, new users must be willing to devote the time and patience required to learning the system, software, and settings. But have no fear. We offer a number of resources to help you become a consummate Lynx timer. We asked a group of expert Lynx service providers what knowledge they think is essential for any new timer to know. Below is a list of the major tips and tricks provided by some of our most experienced FinishLynx timers.
Most Popular Tips & Tricks for New FinishLynx Timers
Practice. Practice. Practice
The best way to learn the system is to practice. Practice setting up the system. Practice aligning the camera on a finish line. Practice capturing images and saving events. Practice adjusting your settings to take the best possible images.
Practice in the school gym. In your living room. With your friends. Capture cars as they pass by in the street. The more comfortable you get behind the capture button, the easier it will be to capture great results at your events.
Buy an Uninterruptible Power Supply (UPS)
An Uninterruptible Power Supply (UPS) is used to protect computers, cameras, and network hardware from an unexpected power disruption that could cause data loss. At the very least, use a surge protector. View more info on Wikipedia.
"I cannot stress a UPS enough. That is the #1 thing a timer needs to buy." – Brian S.
Anchor Your Cameras & Tripods
You never know when a gust of wind, exhausted athlete, or clueless spectator may accidentally make contact with your cables or hardware. Be sure your expensive hardware is properly anchored to the ground throughout the meet. Stakes, sandbags, water jugs, and weights can all work in a pinch. Take a look at the tripod images below for examples.
Dress Up Your Finish Line
Having a crisp, white finish line is the quickest way to ensure clear FinishLynx captures. It doesn't matter if your finish line is on a track, along the grass, or across a paved road. Use white gaffers tape (matte, non-glossy), chalk, or even paint (if allowed) to improve your finish line.
Also, adding black tape to the lane lines is a great way to clearly identify the lanes in your image. Many users also add a white post/board on the far end of their finish line. This vertical extends the white finish line vertically to create more uniform image captures.
Consider Adding One of our Most Popular Product Upgrades
"Once we got [ACM] we have never missed a finish. It makes completing the results faster also." – Kevin, FinishLynx Timer
Remote Camera Positioner The remote positioner is a camera mounting platform that allows operators to make precise adjustments to the camera remotely from within the FinishLynx software – including Pan, Tilt, and Swivel commands.
RadioLynx Wireless Start RadioLynx is a wireless start system for FinishLynx. It replaces the 500' start cable and allows operators to move more freely about the track. The system wirelessly transmits the start signal using a wireless transmitter and receiver and integrates seamlessly with FinishLynx.
IdentiLynx Full-Frame Video Camera IdentiLynx is an Ethernet-based digital video camera that captures full-frame, head-on video from the finish line and integrates it with your photo-finish captures inside FinishLynx. IdentiLynx video is time-synchronized with the FinishLynx capture so you can click anywhere on an image and watch the head-on video jump to precisely the same moment.
"Wouldn't do a track or XC meet without it. It's saved more races than one can count, especially when runners block out the others and/or there was a question regarding team or team members." – Trey, FinishLynx Timer
Visit the Online Tech Support Resources Available to New Timers
Learn How to Link Multiple Computers Across a Single Network
The majority of support questions we receive from new users have to do with network communication issues. Learn how to set static IP addresses, share data securely across a wireless network, and communicate with other devices. View our Windows networking guides to learn more about creating a safe and secure results network at your events.
Learn the FinishLynx Keyboard Shortcuts
Alt + T — Toggles capture on/off (must be done before each race)
Ctrl + S — Saves the race
Ctrl + W — Closes the window you just used
Ctrl + N — Opens a new window for a race
Ctrl + E — Refreshes all scoreboards
Buy a Step Ladder For Easy Access To Cameras & Cables
Many of our service providers recommend that all timing teams buy a step ladder, stool, or a something similar for events. Adding a few extra feet of height can be a huge help when you need to reach the cameras for adjustments or alignments. FinishLynx cameras may be placed 10+ feet above the ground and some adjustments must be made by hand.
Arrive Early
It doesn't matter if you're timing a small track meet or the Tour de France. Always give you and your timing team ample time to set up, align, and test your FinishLynx system. How early you should arrive depends on the size of your venue and scale of your event. Even many experienced timers suggest arriving a minimum of two hours before a track & field event. If you're still learning how to properly align cameras and run cables, you may very well want to arrive even earlier.
---
More Helpful Resources for FinishLynx Timers