ResulTV 6.0 Live Results Display & Broadcast Software
ResulTV is a Windows-based results display program that allows timers to stream and broadcast live event data to compatible displays and video feeds. ResulTV integrates with FinishLynx timing systems to display dynamic results data to video scoreboards connected to the network. ResulTV 6.0 is the first major update since the release of ResulTV 5.11 in March 2013. Version 6.0 has several new features including:
Support for animated .GIFs (like custom flags and logos)
Support for custom colors (RGB values) for the font, border, shadow, and backgrounds
Choose from new results templates
New speed setting inside the Bitmap dialog
Adjust the location of the Lynx logo
New hidden setting for debugging output
The latest version of ResulTV can be downloaded on the ResulTV product product page. Existing ResulTV customers can upgrade for free using their serial number. We've also included a large package of animated flag gifs for use with this latest version of the software. The animated flags installer (ResulTV-Flags.exe) is 337 MB includes international and US state flags in various sizes. But 6.0 also supports custom gifs provided by the user.
Visit the ResulTV Product Page Now.
If you're interested in purchasing ResulTV, please contact us now to request a quote.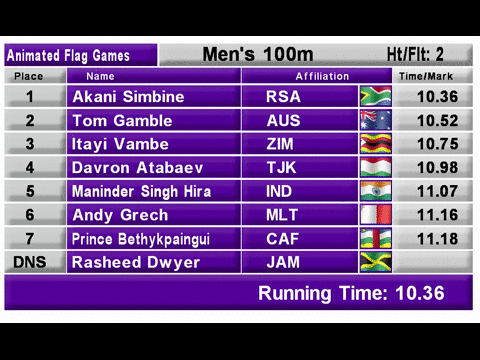 How to Configure ResulTV for use with FinishLynx