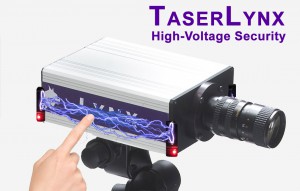 April 1, 2015 — FinishLynx timing systems are a big investment, no matter what size organization you are. It doesn't matter if you're a small high school track program or a large cycling federation. Some customers spend years building up their systems, adding new cameras, software plugins, and upgrades every season. So it makes sense that you'll want to do everything you can to protect your investment. That's why we're introducing TaserLynx, a high-voltage security add-on for FinishLynx.
TaserLynx is a remote-activated electric taser add-on that integrates with your FinishLynx hardware for seamless anti-theft (and anti-spectator) features. When armed, TaserLynx will deliver a 50,000 volt shock to immobilize any unwanted visitors who approach the timing hardware. The active shock range threshold can be configured directly inside the FinishLynx software using the free TaserLynx plugin.
TaserLynx sensors can be added to cameras, tripods, scoreboards, and other other timing equipment within a 100 meter radius. The TaserLynx units can draw power directly from your camera, AC power, Power-over-Ethernet, a computer serial port, or a compatible wind/geothermal source. No need to worry about the science behind it. Each TaserLynx unit also includes a powerful lithium battery for over a year of passive arming. That means your FinishLynx technology will be protected, even when it's stored away for the winter.
TaserLynx Tesla-Coil Upgrade
After the success of last year's NerfLynx upgrade, we decided to enhance our finish line security even further. For just $99 you can upgrade your TaserLynx to Tesla-Coil mode. Tesla-Coil mode transforms your TaserLynx from a passive security device to an active one — allowing you to use a capture button to shock unwanted intruders up to 50 yards away from your primary camera. Keep spectators, athletes, parents, and administrators in check by adding TaserLynx Tesla-Coil mode today. It's a safe and effective way to protect your photo-finish system in the field.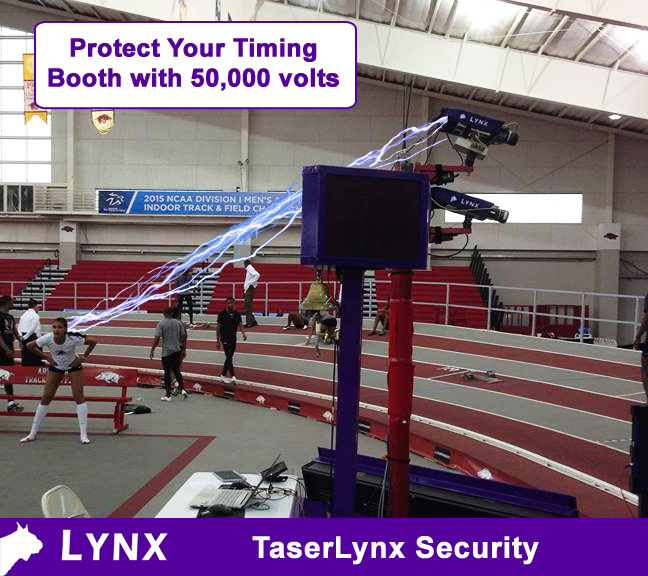 April Fools! Please re-share on social media if you'd enjoyed it :)