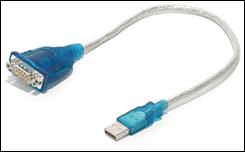 Our technical support team has tested FinishLynx version 8.2+ and determined that the software is fully compatible with Windows 8 and 8.1. However, some Lynx users have experienced compatibility issues problems with their USB-to-serial adapters. In some cases, out-of-date USB drivers may cause problems on Windows 8 devices – making them unable to connect properly. Fortunately, this is a very easy fix. Simply download the latest device drivers for your model of USB-to-serial adapter and install them on your Windows 8 devices. This will ensure compatibility on race day. The latest Windows 8-compatible drivers can be downloaded from manufacturer websites. We've also included some instructions below for some adapters commonly used with FinishLynx systems. Please update your USB drivers if you use Sabrent, Prolific, or ATEN serial converters. See the directions and downloads below.
Note: If you are upgrading your computer to Windows 8 and have a Sabrent USB-to-Serial adapter (see right), you must follow the instructions below in order to update the Sabrent drivers.
1.
Download the USB Driver listed below
[wpfilebase tag=file id=105 /]
2. Download the file below (Ser2pl64.sys)
[wpfilebase tag=file id=166 /]
3. Extract the file to your Windows 8 Driver folder
C:\Windows\System32\Drivers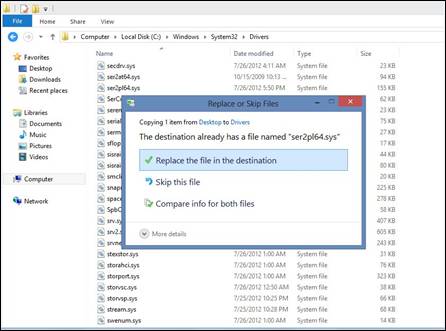 4. Restart your computer with the new driver
Note: You may also purchase a new Serial-to-USB adapter to avoid any potential conflicts with 3rd party drivers. Simply contact Lynx or buy the adapter online from NewEgg.com.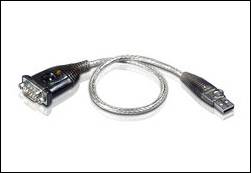 5. Your Driver Update is Complete
[box type="alert" border="full"]
Prolific USB Adapter Compatibility
The directions above will work for all Sabrent USB-to-Serial Adapters that ship with FinishLynx. If you have the older "Prolific" model, you'll need to use the following driver to ensure compatibility with Windows 8.
[wpfilebase tag=file id=399 /]
ATEN USB-to-Serial Converter
All current FinishLynx systems ship with ATEN USB-to-Serial Converters. We have not encountered any issues with Windows 8 compatibility. But we still recommend to you update your drivers to prevent any future issues. The latest ATEN drivers can be found below.
[wpfilebase tag=file id=641 /]
[/box]