About the 2015 Special Olympics World Games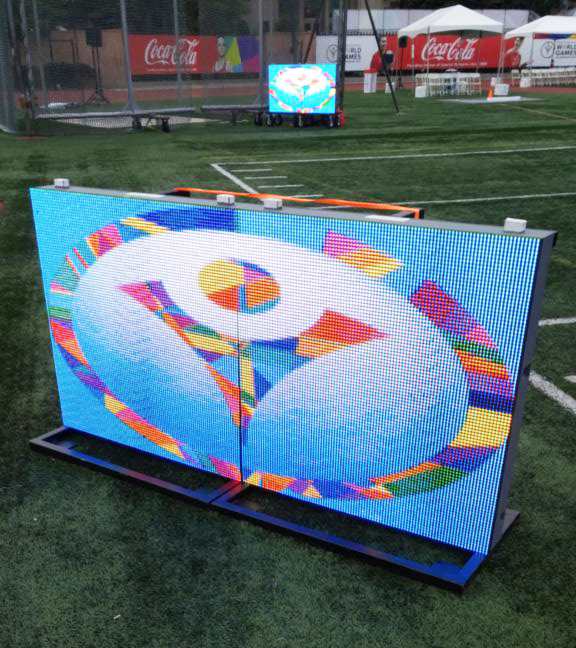 Every two years, the largest sports and humanitarian event in the world is held, giving athletes with intellectual disabilities the opportunity to showcase their talents globally. Los Angeles, CA was the home to the most recent games held July 25 – August 2, 2015, hosting the largest event the city has seen since the 1984 Olympic Games.
Actors, Olympic athletes, musicians, and even the Princess of Monaco attended to show support for the games by performing at the Opening Ceremonies and presenting medals to athletes. Below is a glimpse at the size of this event:
25 Olympic-type sports
165 countries
2,000 coaches
6,500 athletes
30,000 volunteers
500,000 anticipated spectators
Moving Towards Unified Acceptance
The Special Olympics strives to change the perceptions of people with intellectual disabilities and create a worldwide discussion to move towards a unified acceptance. One particular segment was developed this past year under the theme #WhatsOneThing in which participants were interviewed and asked what's one thing they were told they'd never be able to do growing up. Many of the athletes have been repeatedly told they can't, it's impossible, it'll never happen, etc. Thanks to the Special Olympics, these athletes gain self-confidence by competing, plus they're able to inspire the spectators by achieving their dreams while showing the highest levels of sportsmanship.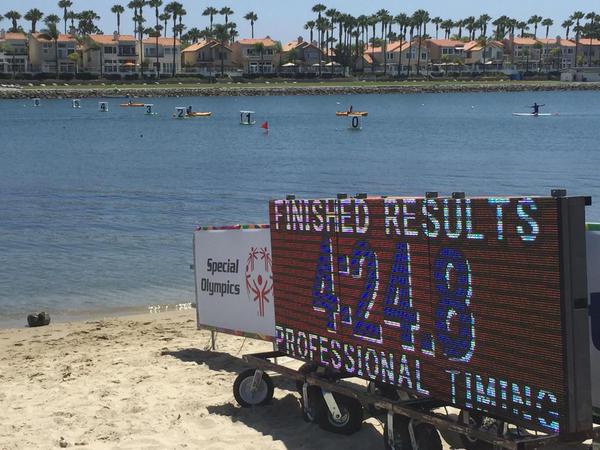 FinishLynx At the World Games
Finished Results was chosen to time the 2015 World Games after showcasing their elite-level timing at the Special Olympics Trials in 2014.  To many, the thought of timing such a large event may seem daunting. But with strategic planning (plus an arsenal of backup cameras), the timers were able to pull it off with ease.
In total, the team timed the following seven events:
Athletics
Cycling (road and time-trial)
Half Marathon
Kayaking
Open Water Swimming
Roller Skating
Triathlon
Preparing for the Big Event
What exactly goes into timing an event like this? The first step is planning.
"Taking on the project as a whole could be a very intimidating task. By putting a lead timer in charge of each venue, and with the additional help from Royal Results, we were able to divide the work into much smaller and more manageable projects."

– Chris Drescher, Finished Results

Logistics and Venues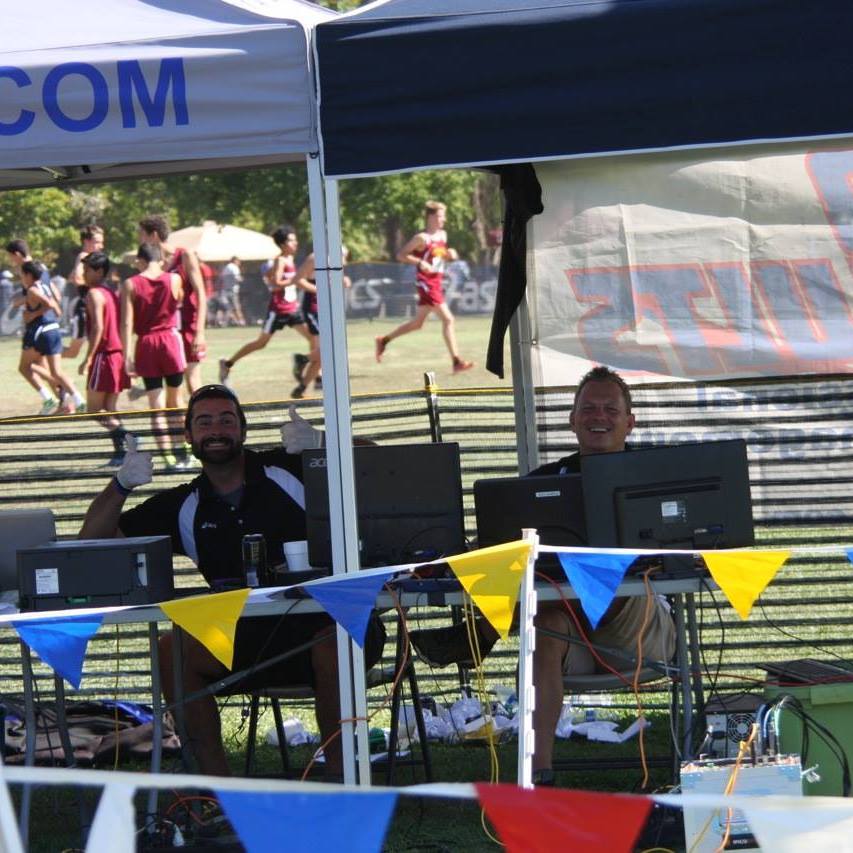 In total, Finished Results had a group of seven Lynx operators plus 10-15 helpers who assisted with meet management, athletes, start assistants, etc. For equipment, they used two photo-finish cameras for each event (one primary plus a backup), IdentiLynx PROs, LED displays, FieldLynx, ResulTV for live results, IPICO multi-sport tags, and shared data with the Special Olympics proprietary scoring software.
The Finished Results team originally needed seven trailers to get all the equipment down to the venue. They were told they could bring just one, but they were able to negotiate up to three. Somehow they maneuvered all their equipment to make it fit into the three trailers.
Once down at the Games, the sheer scale of the event created some logistical issues to overcome which included a lot of: drive to one venue → drop off equipment → drive to the next venue → drop off equipment → go park off site, all the while trying to unload without being in a fire lane. Below is a list of each event and venue stretched across the 7-day period.
| | | |
| --- | --- | --- |
| 7/25/2015 | Athletics | USC Campus |
| 7/26/2015 | Triathlon | Long Beach |
| 7/26/2015 | Roller Skating | LA Convention Center |
| 7/26/2015 | Open Water Swimming | Alamitos Beach |
| 7/27/2015 | Cycling | Shoreline Drive, Long Beach |
| 7/28/2015 | Kayaking | Marine Stadium, Long Beach |
| 8/1/2015 | Half Marathon | Long Beach |
"Most events we time, there is one meet director that we are in communication with for everything that is needed.  But events on a large scale such as the Special Olympics World Games have many layers of management.  Add in the fact that we were timing not only Track & Field, but 6 other events at 4 other venues; we now have multiple people we are working with.  The important thing to remember is that we are all trying to accomplish the same goal, which is making the event a tremendous success."

–Chris Drescher, Finished Results
Adjusting for Different Sports and Events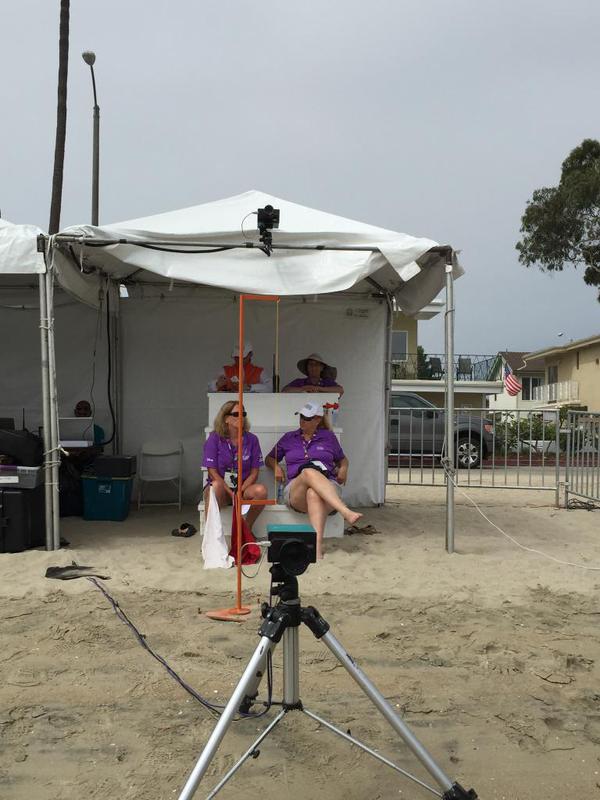 For the SOWG, Finished Results had to carefully tailor their timing setups depending on the size, venue, or speed or the events. For example, they quickly discovered that a different lens was needed for timing the kayak races because the cameras were set up much farther away from the finish line.
For cycling, most would assume that RFID transponders would be the primary timing device. But instead, they opted to use FinishLynx cameras in Time Trial mode with IdentiLynx video for the results.
One other wrinkle was the character encoding for results and scoreboards. The events had athletes from all over the world, meaning that a variety of languages and characters would need to be supported for posting results in real time. The team quickly made adjustments behind the scenes to produce a seamless experience for athletes, fans, and officials.
LED Displays Add Wow-Factor
Finished Results owns dozens of LED display boards, many of which were used at the Special Olympics Trials in 2014 and the World Games in 2015. The combination of LEDs, ResulTV software, and FieldLynx allowed them to create a wow-factor with live scoring and results. The sheer number of displays used reinforces how essential scoreboards have become in the sports timing world. The team used a jumbotron, seven finish line displays, and up to 24 2-panel LEDs for results, ads, and event signage.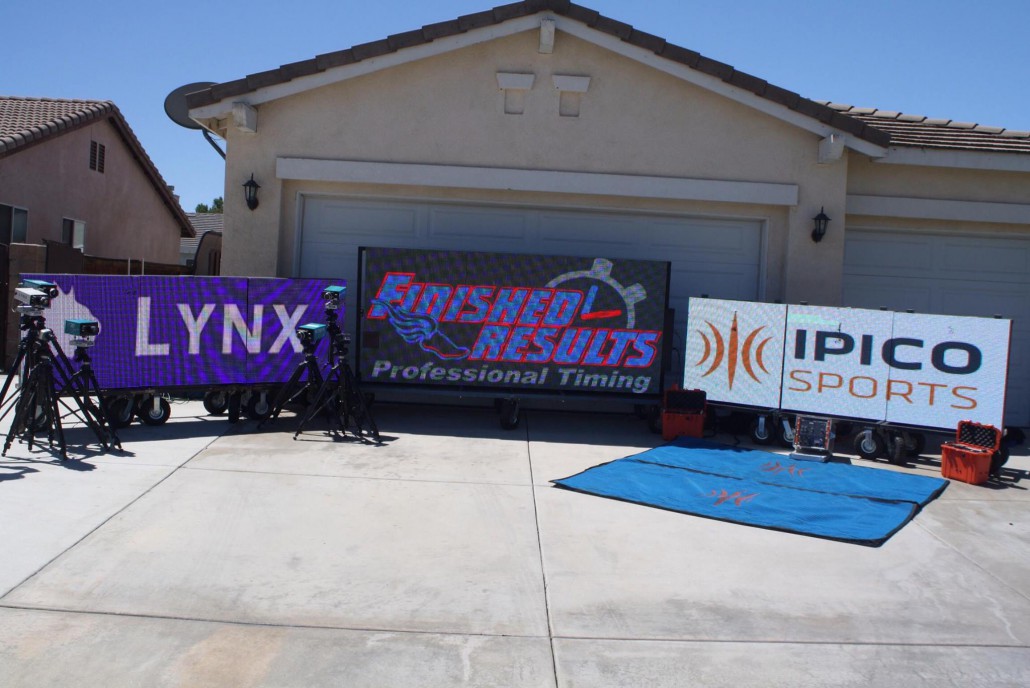 Overcoming Challenges and Gaining Insights
One obstacle they faced was that a large event like the SOWG has every detail planned out in advance. When there are so many athletes, spectators, and stakeholders, running a tight ship is essential to the success and security of events. But that also means the timing crew wasn't able to enjoy the same autonomy provided by smaller races. Tent locations, event parking, visitor passes, lunch breaks, and event schedules left little room for error or adjustments. But after all was said and done, the Finished Results team was able to take away some great insights for timers looking to scale up their events:
Surround yourself with good people and befriend others at the event
Learn as much as you possibly can about the technology you're using
Remember that timing is a service industry. You're the expert and need to remain calm to help them through various situations.
Be adaptable to various situations and try to anticipate the problem before it happens.
Treat each meet with the same level of quality and service no matter the size.
"Our experience as a whole was amazing and humbling. Amazing in how many volunteers gave up countless hours of their time in support of the games. Humbling in seeing how much these athletes overcome on a daily basis. The courage and strength transcends through all sports."

– Chris Drescher, Finished Results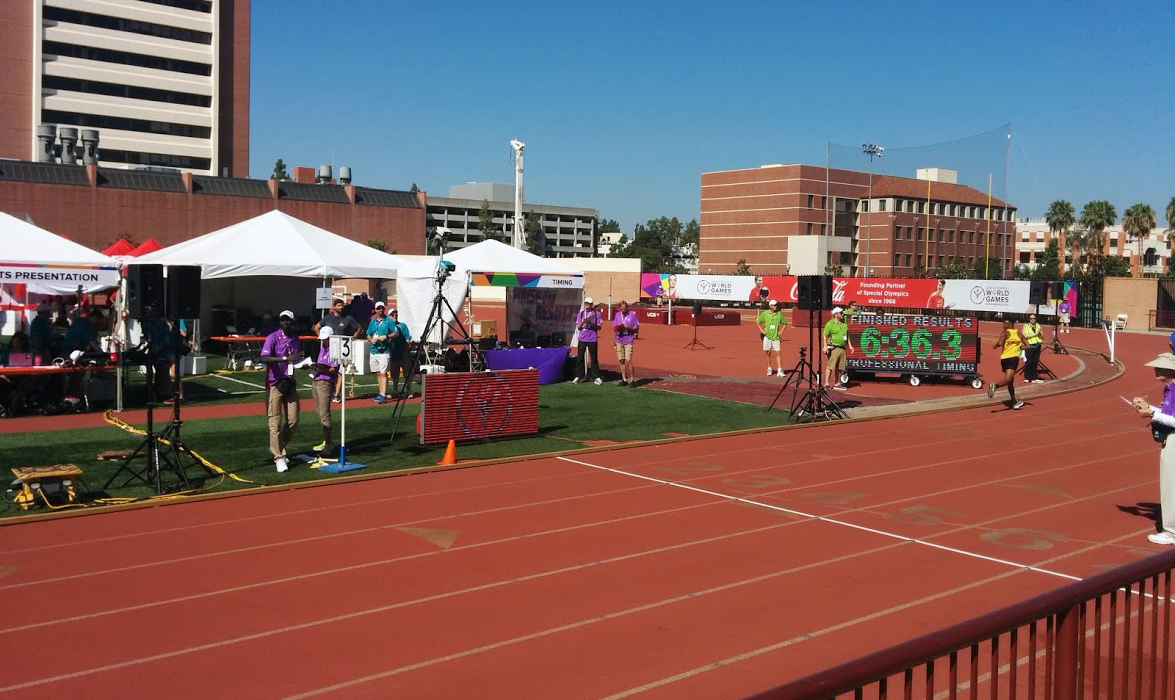 We'd like to thank Chris Drescher, Brian Sparacino, and Alex Lohman of Finished Results in Menifee, CA for taking the time to answer our questions and provide an inside look at timing this major event. Read more about the 2015 Special Olympics World Games here.
Want to learn more about how a FinishLynx system can help your event? Visit our fully automatic timing packages for more information.