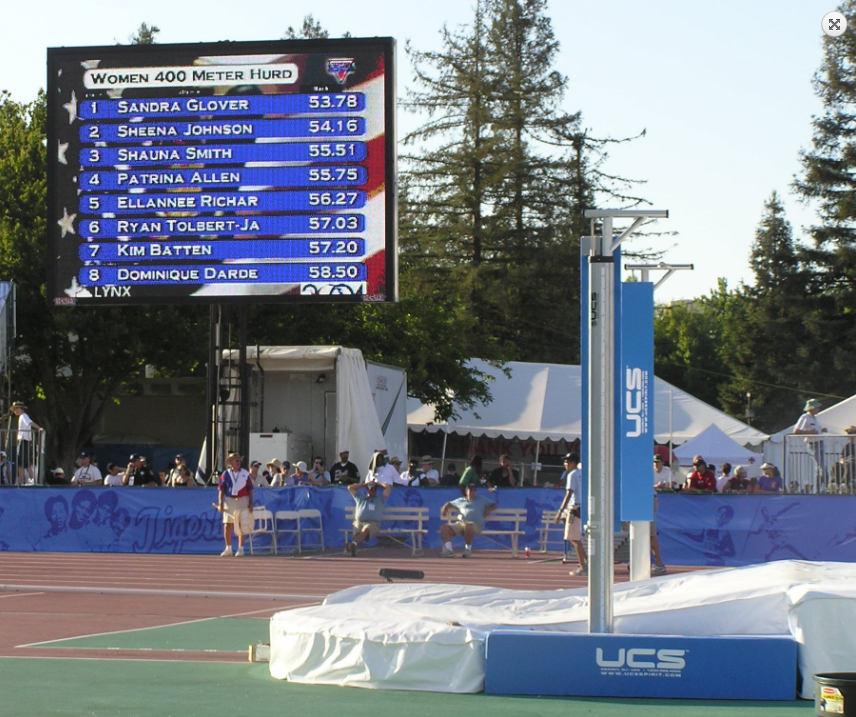 ResulTV: Live Results Display Software
ResulTV is a digital display and graphic generation program that produces live results from FinishLynx timing systems. The Windows-based software allows FinishLynx operators to produce scalable result graphics for output on any compatible graphic display or scoreboard. The ResulTV software can even produce high-quality dynamic images suitable for live broadcast television or internet video streams.
ResulTV can display any FinishLynx data (including athlete names, times, ID numbers, lane assignments, and affiliation). The software is also compatible with FieldLynx, ReacTime, and many 3rd-party meet management programs, which allows users to output start lists, athlete splits, running times, and live results.
ResulTV is designed to be an operator-free program that displays results data dynamically by using pre-configured layouts. But at more complex events, it's also possible to have several ResulTV layouts active simultaneously so operators can toggle between layouts with a simple click.
This ability for customization means that operators can produce sophisticated, event-branded graphics for even the most complex sporting events. That's why ResulTV has been trusted at the highest levels of competition, including the USATF National Championships and US Olympic Trials.
User-configurable graphics and layouts
Supports both static and dynamic text fields
Supports both static and dynamic 24-bit graphics
Supports live results and running times
Supports multiple data sources (FinishLynx, LynxPad, ReacTime, etc.)
Supports most 3rd-party meet management programs
Supports PAL and NTSC formats
Supports full range of Windows fonts
Supports foreign language characters (Chinese, Korean, Arabic, Cyrillic etc.)
Supports transparent images and overlays
SoftwareResulTV DatasheetsResulTV Manuals
| Name | File Size | |
| --- | --- | --- |
| ResulTV Manual | 1.6 MB | Download |
| ResulTV 6.30 Release Notes | 157 KB | Download |
| ResulTV 6.21 Release Notes | 203.4 KB | Download |
| ResulTV 6.20 Release Notes | 202.0 KB | Download |
| ResulTV 6.10 Release Notes | 166.3 KB | Download |
| ResulTV 6.01 Release-Notes | 51.4 KB | Download |
| ResulTV 6.0 Release Notes | 54.2 KB | Download |
ResulTV Quick-Start Guides
Product Version: 3.6.4

Related Products