Orlando, Florida – Last week, members of the Lynx team traveled south to Orlando, Florida to host the 2018 International Resellers Symposium at the Coronado Springs Resort. We had the chance to invite Lynx partners and resellers from all over the world to come together to learn new skills and network with fellow operators. We had an impressive turnout with 60+ attendees from 29 partner countries around the world.
Symposium Overview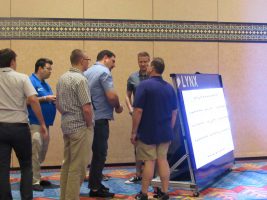 Over two very packed days, attendees listened to presentations by Lynx employees and partners including a range of topics like FinishLynx Technology & Taking Better Photos, Tips for Planning a Local Training Seminar, Falcon Racing, and many more. Along with the presentations, guests were also given the opportunity to test out the latest Lynx products hands-on. Some of the fan-favorites included the Vision PRO Camera, LED Scoreboard, and the IdentiLynx XR+ Video Camera.
While the main focus of the conference was to learn, the secondary goal was to build and create new relationships. It's not too often people from 29 countries get to mingle in the same room; so when that does happen, we want to take full advantage of it. New friendships and connections were made while existing ones were strengthened.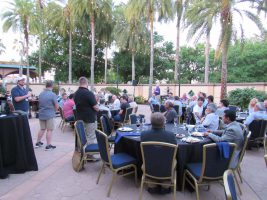 Other Highlights
Aside from listening to lectures and networking with colleagues, guests attended a nice outdoor Welcome Dinner held on one of the patios of the resort. Here, initial introductions were made while enjoying a variety of foods. At the completion of the symposium, the group boarded the coach buses and traveled to Epcot for the Farewell Dinner and fireworks display. All-in-all, we hope that everyone found a good balance of work and fun. It was a fast-paced couple of days, and we look forward to what's in store for next time.
---
We'd like to give a special thanks to our guest presenters who took the time to deliver presentations for this conference. You can find the videos on our YouTube channel.
Head to our Lynx Facebook page to see the full collection of pictures from the Symposium.