You've got your fully automatic timing system. You can set it up, time races, and capture accurate results down to the millisecond.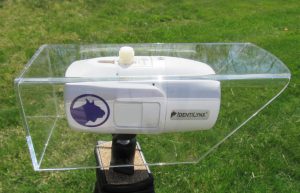 So, what's next? Maybe you want to expand your timing services to include new race formats (i.e. road races, XC, marathons), or add a new capture angle to your finish line. The IdentiLynx+ and IdentiLynx XR+ full-frame video cameras can do just that. In fact in past polls, FinishLynx operators rated the IdentiLynx full-frame video as one of the top upgrades to add to their timing systems. Take a look at the features listed below to see how an IdentiLynx video camera can add tremendous value to your repertoire.
IdentiLynx Basic Features & Benefits
Finish line video camera that runs on Power-over-Ethernet
Remote controlled zoom/focus/iris
Time-sync with chips & photo-finish images inside the software
Save, share, and export video files for the web
Capture the finish line from multiple angles (head-on, above, left/right of finish)
See obscured hip numbers and competitor views
Evaluate video feed in real-time while the race is still happening
Have peace of mind with a backup for your chip system (missed chips can happen!)
Run IdentiLynx video as a stand-alone or in conjunction with your photo-finish and/or chip timing system
There are many advantages to using an IdentiLynx video camera over a basic video camera such as a security camera. When an IdentiLynx camera is used in conjunction with FinishLynx, each video is time-synced with the photo-finish image and the chip times.

The Automatic Capture plug-in can be activated within the IdentiLynx cameras.
The IdentiLynx cameras are the only video cameras that natively integrate with FinishLynx.
Once athletes are captured, control everything within the FinishLynx software. Click on the photo-finish image, the video will jump to the same location and vice versa (see below).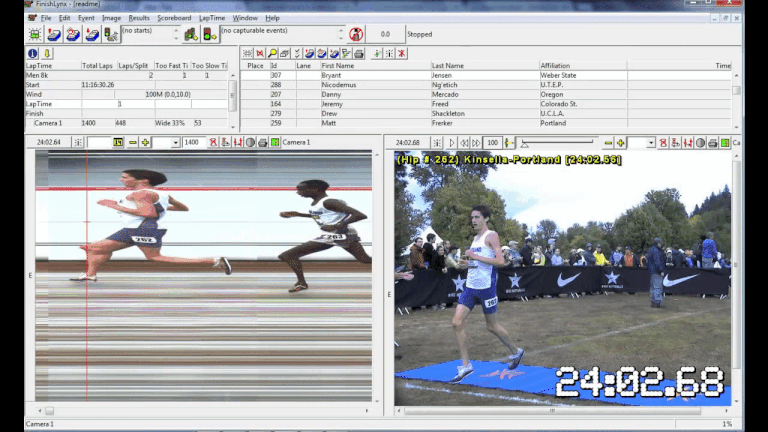 IdentiLynx+ & XR+ Features and Comparison
This past year, Lynx released two new IdentiLynx camera models that have phased out the older versions. Each of these new models offer superior quality and make a perfect addition to your current timing setup. The feature that truly makes the new IdentiLynx cameras shine is the addition of remote lens control. Gone are the days of needing to adjust the focus, iris, and zoom manually; now, just the click of a few buttons within the FinishLynx software will take care of that.
Standard 720p vs Variable quality/frame rates
Remote lens control – Control and adjust the zoom and focus from within FinishLynx (vs old models)
Two prices points offered
Hard plastic housing protects lens in case the camera tips over…or is tackled by an athlete :)
| | | |
| --- | --- | --- |
| Camera Model | IdentiLynx+ | IdentiLynx XR+ |
| Max Resolution | 1280 x 720 (30 fps) | 2592 x 1944 (15 fps) |
| Max Frame Rate | 30 fps (1280 x 720) | 30 fps (1920 x 1080) |
Cross Country/Triad
Anyone who has timed a large race can tell you that the finish line can (and will) become over-crowded with finishers. While chips alone are considered accurate, it's not uncommon to have missed chip reads, runners wearing wrong tags, or incorrect finish orders during tight races (which is a nightmare for team scoring). In these instances, it's essential to have a visual backup to certify the correct finish order and times of each athlete. Having head-on video proof of the finish line can be used to read bib numbers or identify athletes based on uniform or school colors. Combine photo-finish, video and RFID into a single interface to have the best possible timing solution for every race. Read more about Cross Country and Chip Integration
---
Testimonials
[I] am providing the timing for a medium-sized college invitational in a few weeks. Used the IdentiLynx last year and saved the race after a person dropped the stringer with the tear off tags and they went everywhere. IdentiLynx was the only thing that saved it and it was rather fast to use to get the chest bib numbers of all finishers. The IdentiLynx camera is definitely worth its expense. Just ask the coaches.

– Trey Jackson
We at Ford Timing LOVE our new IdentiLynx – Don't know how we've survived without it all these years!

– A. Ford
A chip timing system without cameras is like an electronic voting machine that doesn't produce a paper receipt; you can still wonder whether the recorded result matches what actually occurred. But it is pretty hard to refute a photo record of every rider on every lap.

– Lennard Zinn, Velo News
First XC event using the "Triad". Used bib tags and had ZERO misses. Even got the close finishers in the correct order. Amazing that as soon as the last runner crosses the finish line, we're DONE! Well done on the integration.

– R. Berryman
IdentiLynx: For More Than Just XC