Here at the Lynx headquarters, we're a little obsessed with finish line images. It's our job. We think great photo-finish images really are a thing of beauty. Doesn't matter if it's a dead heat at the Track & Field Olympic Trials, or a horse winning $6M at the Dubai World Cup—we love them all. Maybe it's the moment itself, the motion-distorted body parts, or the way each pixel is stacked together to create an image. We've always believed each FinishLynx image is a little piece of art. And apparently there are others who agree. Here are a few examples of how our photo-finish images have been immortalized as art.
Sports Illustrated Photography
Sports Illustrated magazine has printed several FinishLynx images over the years. It's no surprise the sports publication loves Lynx images. The rapid frame-rate camera of Lynx cameras (2,000 – 10,000 frames per second) lends itself to producing beautiful high-resolution photos ready for print. And of course, the images capture the most important moment of every race: the finish. This FinishLynx image was captured by SI photographer Heinz Kluetmeier at the USA Diving Grand Prix. See additional images here.
Student Paintings
We came across this artwork on Instagram thanks to the #photofinish hashtag. User @Nienna4 painted these images as part of a project at the Sydney College of the Arts in Australia. No surprise, she is a runner. We love how she added the photo-finish distortion to the feet. Nicely done.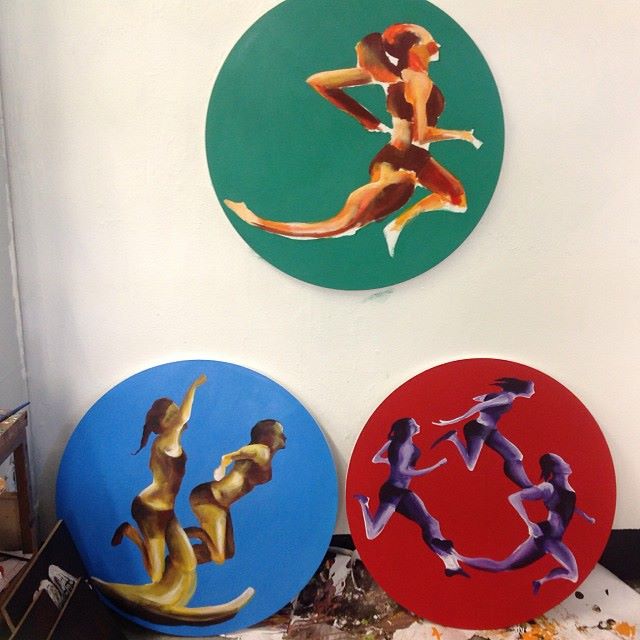 Stained Glass Photo-Finish Art
We discovered this stained glass panel on Pinterest. It was created by UK artist Neil McCain and was displayed as part of a special sports exhibit at the National Waterfront Museum in Wales, UK. According to the artist's website:
It evokes the spirit of competition and split-second excitement of the modern 'Games'. Two athletes reach for the line in a photo finish. The freeze frame reveals the winner at the speed of light, depicted by a rainbow spectrum of light across the bottom.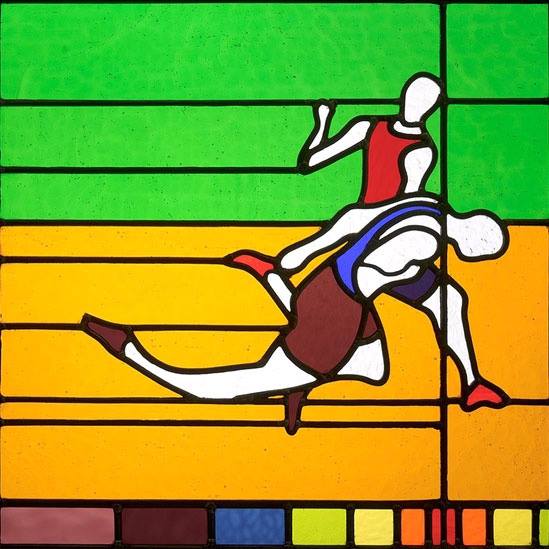 Have you seen some other photofinish-inspired artwork out in the wild? Share it on our Facebook page.