The topic of insurance has been brought up many times within the race timers' community. What type of insurance is needed? Who is responsible for providing insurance at events? Is insurance needed at all? With so many questions in mind, it can be difficult to get a straight answer – especially with how complicated the general topic of insurance can be anyway. We spoke with Scott Sutter of Strategic Risk Transfers, an insurance company offering coverage specifically for Race Timers, to see if we could clarify some of the more common questions.
The first question that can be asked is, "Do we even need insurance?" While not all race timers choose to get insurance, the majority of events and venues putting on a race will require it. There is just so much that can possibly go wrong. When looking for insurance, be sure to read up on any exemptions listed on insurance policies if you are planning to host a mud run or bicycle race, for example, because some insurance policies won't cover those.
So, who is responsible for providing insurance? Below is a handy breakdown from Scott to have a simple way of answering that exact question: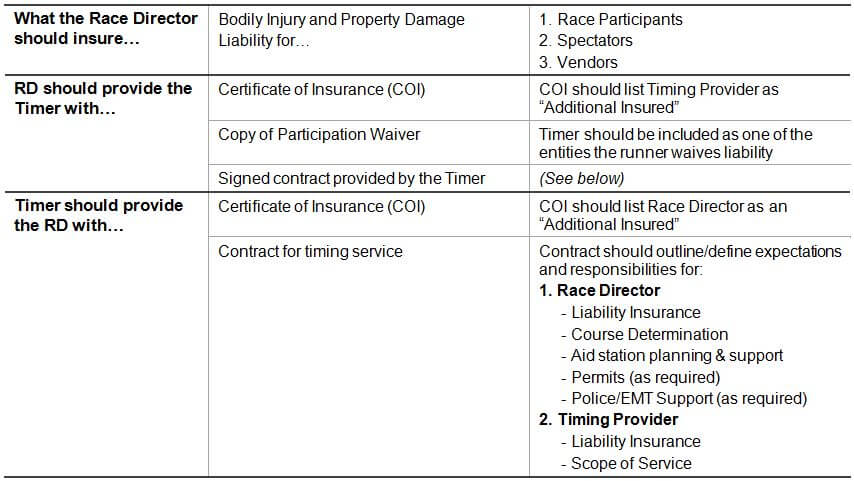 This Insurance Guide has been prepared specifically for Race Timing Providers. The timer's insurance related responsibilities are dictated by the timing contract, as well as best practices and State Statute. This guide is designed to generally guide the Race Timer in their initial engagement with a Race Director.
Choosing Insurance Coverage for Race Directors and Timers
The options for race timing insurance can be fairly limited. For Race Directors who are hosting events, you may opt to just get single-event insurance for each one. Another option is to get a single, year-long event liability policy which covers all races. As for insurance on the race timing side, it could be a smart idea to have general liability insurance that would provide coverage if you are liable for non-race related bodily injury or property damage (ie; your inflatable arch falls on someone's car, etc). It could also be a good idea to look for a policy that has professional liability coverage which would cover instances such as the timer releasing incorrect results, the wrong runners are then issued prize monies, and the RD cannot get those monies back – professional liability coverage could activate in this case.
According to Scott, "General liability policies specifically exclude 'participation in and/or practice for athletic events.' If you are a race timer, this exclusion isn't a big deal, since the timer is only responsible for recording the performance of the participant. However, this exclusion is a huge deal to the race director, who is responsible for the runner – while that runner is in between the start/finish line, as well as at associated race exhibitions, post-parties, etc. This is why the race director must buy an event liability policy. The event liability policy will defend the race director if they are sued by a participant (or spectator or vendor) for bodily injury or property damage."
Exploring Race Timing Insurance Options
Two of the more well-known options are offered by the USATF and the Road Runners Club of America (RRCA). One detail to note with these options is that membership may be required in order to get insurance from either organization. On another note, some race timers have found that the insurance providers they already use for Auto/Home are able to provide the adequate coverage needed. This is less common though, and unfortunately, a general insurance company typically won't be as knowledgeable of the intricacies involved with race timing.
This lack of race timing insurance options brings us to Scott Sutter.
Scott Sutter has always been involved with the track and field world. Previously a Division I track athlete, he has since founded the race production company Southern New England Athletic Association (www.sneaa.org). Alongside the race production company, Scott also owns and operates Strategic Risk Transfers, a commercial liability insurance brokerage out of Worcester, MA. Scott shared with us his realization that there was a real need for race timing insurance:
A couple of years ago, the timing company that we historically hired to time our races asked me to quote their insurance. This is when I discovered that an insurance program for race timers did not exist on the market. The timer's current insurance program did not insure their off-site exposure – essentially, they had zero coverage while timing a race on someone else's property – which is every race! Crazy!

– Scott Sutter, Strategic Risk Transfers
Since Scott is deeply embedded within the race timing community, he fully understands the frustrations and complexities of the industry that many other insurance companies simply don't have experience with. In talking with Scott, it's clear that he holds a true passion for providing complete solutions as well as a better understanding for those who may not know where to start. Scott provided us with a list of deliverables from Strategic Risk Transfers which can be viewed here.
Please feel free to reach out to Scott with any questions you may have about your options: scott@srtins.com
If you operate a race timing company and regularly time, score, or host events, we recommend you explore all your insurance coverage options. They will vary by your needs, location, sport, and the nature of your events. But at the very least, you should be aware of your choices. Plans can start at as a little as a few hundred dollars annually. And that's a small price to pay to protect your company, employees, and participants.