September 2023 – Lynx System Developers is proud to announce the official release of the new Lynx 360 Display. This modular display is available in single or double configurations and uses flexible, weather-proof panels that link in a circle. It also integrates seamlessly with Lynx technology to display live results for your events.
Four LED panels connect to form a 4-meter circumference and display high-visibility scrolling or static text, images, results, and animated graphics for superior fan engagement everywhere around the venue. Plus, the 6mm pixel pitch and 6000 nits of brightness ensure that your live results are visible in both indoor and outdoor venues.
Software Compatibility
The display receives data through a standard HDMI connection and is compatible with any software capable of sending graphics to an HDMI-connected display. Connect it to ResulTV to output scrolling graphics of results data from FieldLynx, FieldLynx Lite, or FinishLynx.
Construction & Frame
Each LED panel measures 100cm x 50cm (19.68" x 39.5") and together creates a 4-meter circumference (127cm diameter). Looking to add some extra height? The display allows stacking four additional panels on top to offer a full vertical meter of stunning graphics.
The custom aluminum frame offers solid, weatherproof construction and a lightweight design. The entire unit weighs just 55/101 kg (120/222 lbs) for the single/double options and includes a sturdy storage case on wheels for easy transportation to and from your event. Once assembled, hook the trolley handle to the frame and easily roll the display to the preferred location in the stadium. A removable vinyl cover is also included to cover the top of the display.
Key Features
360-degree view of scrolling graphics
Seamless data integration from FieldLynx or FinishLynx via ResulTV
HDMI input is compatible with most graphic display programs
6mm pixel-pitch and 6000 nits brightness produce high-visibility graphics suitable for indoor and outdoor events
IP65 (front) and IP43 (back) weatherproof design protects the LED hardware from harsh weather conditions
Custom aluminum frame supports the LED panels and provides a polished, professional design
Trolley handle and wheels make it easy to move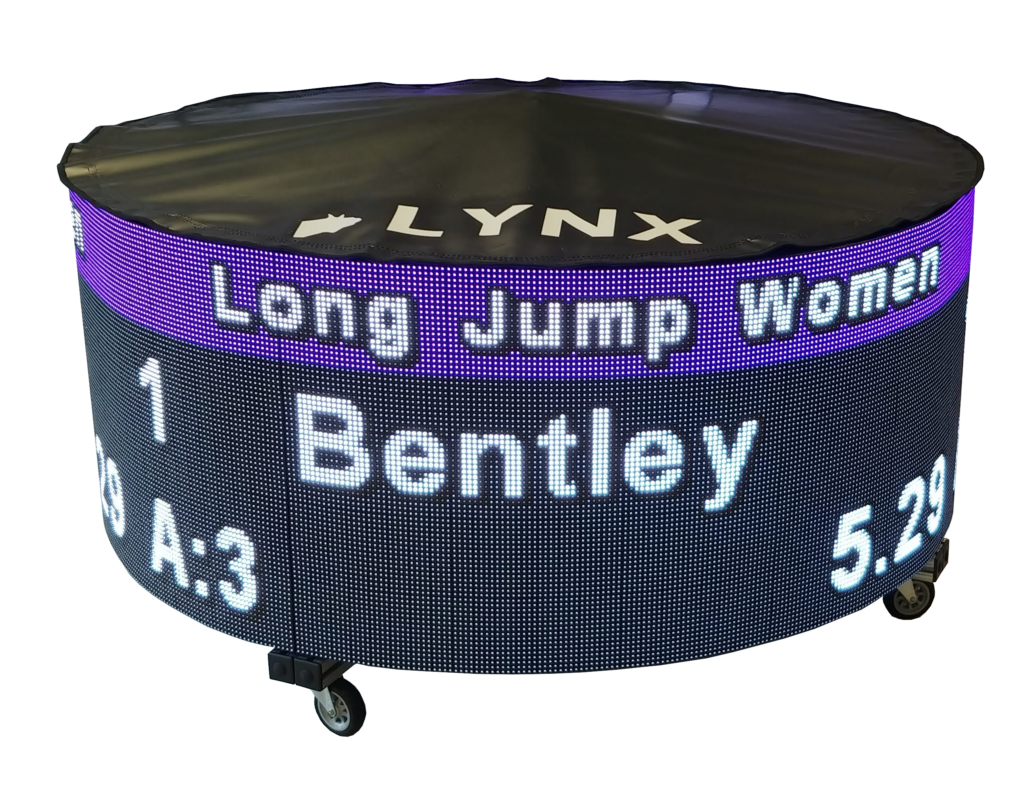 Hardware Specifications
LED Panel Dimensions
100 cm x 50 cm
LED Matrix
640 x 80 pixels
Full Unit Dimensions
Circumference: 4 meters
Height: Single (4 panels) – 72 cm (28.25")Double (8 panels) – 122 cm (48")
Full Unit Weight
Single (4 panels) – 55 kg (120 lbs)
Double (8 panels) – 101 kg (222 lbs)
Pixel Pitch
6.25 mm
Refresh Rate
1920 Hz
Brightness
1200/6000 nits
Pixel Density
25600 dots/sqm
Input Voltage
AC100-240V/50-60Hz
Average Power Consumption
280 W/m2 (360W per row of 4 panels)
Max Power Consumption
830 W/m2 (1660W per row of 4 panels)
Operating Temperature
-50°C to +50°C
Front Ingress Protection Class
IP65
Back Ingress Protection Class
IP54
Frame Materials
Aluminum frame, vinyl cover
Mounting
4-Wheel assembly (with trolley handle)
Connections
HDMI, AC Power
---
More information on the Lynx 360 Display can be found on the product page.