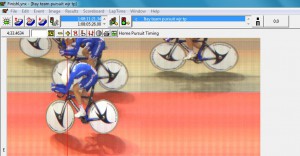 Athens, Greece – The 2015 UEC Junior Track Cycling Championships hosted some of Europe's best young talent in velodrome cycling. The competition was held in Athens from July 14th to 19th. It was timed with high-speed FinishLynx cameras, and the timing team from Phoenix Sports Technology was fortunate enough to capture a new World Record at this year's event.
The women from team Italy took the gold medal in the Women's Junior Team Pursuit Qualifying Round with a time of 4:33.463 and average speed of 52.658 km/h over 4,000 meters. Their time was good enough to beat the teams from Poland and France by over 5 seconds and edge out the previous World Record by more two and half seconds—an impressive feat at any level of competition.
This photo-finish capture is especially notable because it's the first new WR captured by the EtherLynx Vision camera. The Vision was released in late 2014 is quickly becoming a race director favorite because of its versatility and ease-of-use at the finish line.
Congrats to the timers and thanks to Phoenix Sports Technology's chief timekeeper Humberto Uribe for passing along the FinishLynx screen capture. Want to learn more about this year's Junior Track Cycling Championships? You can see the full event results here. Hopefully this is the first of many new records captured by the Vision camera.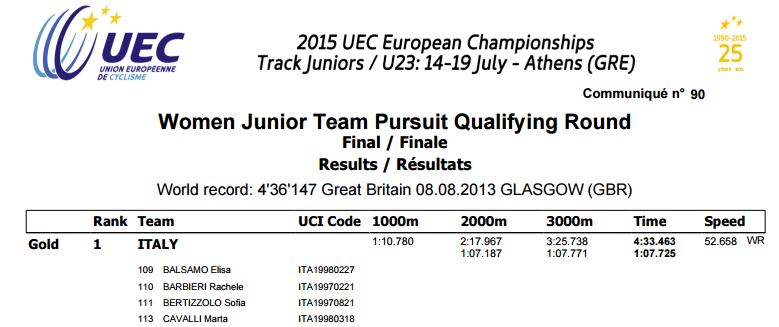 Share this post now!