2023 US Summer Promotion
Take Advantage of the 2023 US Summer Promotion
June 1st – August 31st
---
Trade In: Your Existing EtherLynx Camera
Receive: Trade-In Credit & Free Internal Battery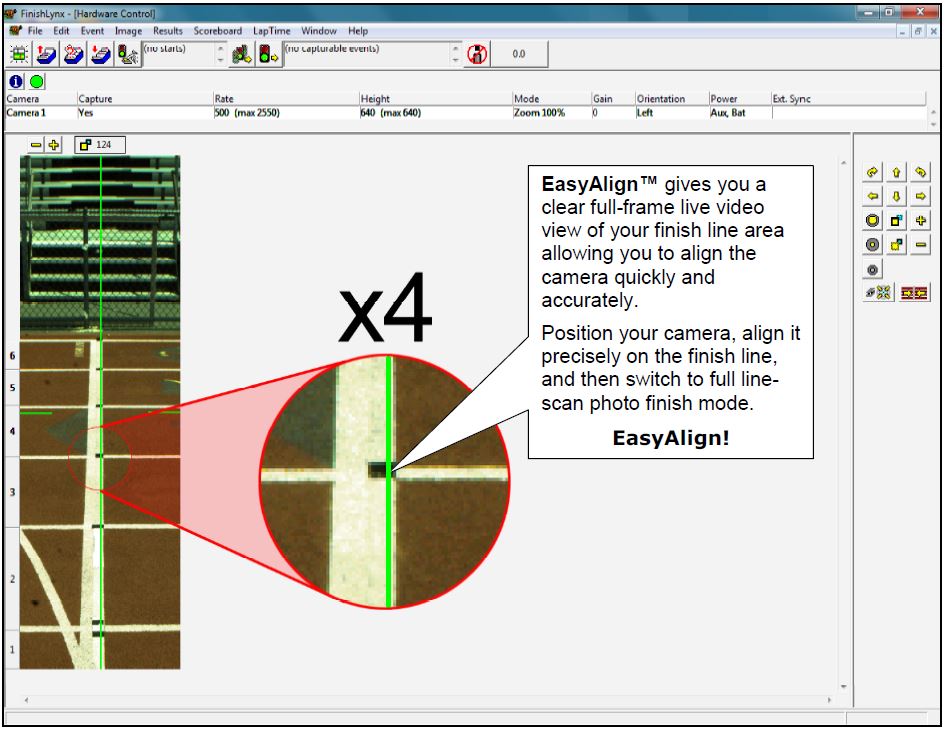 As part of the 2023 US Summer Promotion, we are offering a generous EtherLynx camera trade-in program to encourage the adoption of our Vision Camera technology. You can trade-in your existing EtherLynx camera (of any age or condition) and receive a trade-in credit towards the purchase of a new EtherLynx Vision color camera with EasyAlign mode. During the Summer Promotion, you'll also receive a free Internal Battery Backup Add-On with your new Vision.
When applicable, the Timer-Enabled Option (5LTE) and High Resolution Option (5LHR) will transfer to the new Vision Camera at 100% of their values. For example, a timer-enabled EtherLynx 2000+ with High Resolution (2,000 fps @ 1,000 pixels) will be traded for a timer-enabled Vision with High Resolution (2,000 fps @ 1,280 pixels). Other optional Vision add-ons like LuxBoost or Electronic Filter Control can be added for an additional cost at the time of purchase.
Special Trade-In Bonus: Free Internal Battery Backup Add-on
Trade in your existing 5L100, 5L200, 5L300, 5L400, or 5L420 camera this summer and you'll also receive a free Internal Battery Backup along with your new Vision camera. The Internal Battery is a very popular feature and serves several functions:
Automatically switches the camera to battery power in the event of a power loss
Allows the camera to run for up to 60 minutes without external power
Shows the power source and battery levels within the FinishLynx software
| | |
| --- | --- |
| Current Model | Trade-In Value |
| 5L100 | 5L200 | 5L300 | 5L400| 5L420 | Receive $1,000 trade-in credit towards the purchase of a Vision camera |
View the 5L500 Vision Camera Datasheet & Features
---
Purchase: An IdentiLynx SR or HRS Package
Receive: Free Standard Shipping
When you purchase an IdentiLynx camera package this summer, you'll also receive free standard shipping with your order. IdentiLynx is an Ethernet-based digital video camera that captures full-frame video and integrates it with the photo-finish captures inside FinishLynx.
IdentiLynx video is time-synchronized with your FinishLynx capture so you can select anywhere in the photo-finish image and watch the head-on video jump to precisely the same moment in time. You can also advance and rewind the video one frame at a time to easily identify athletes from bib numbers or team affiliation.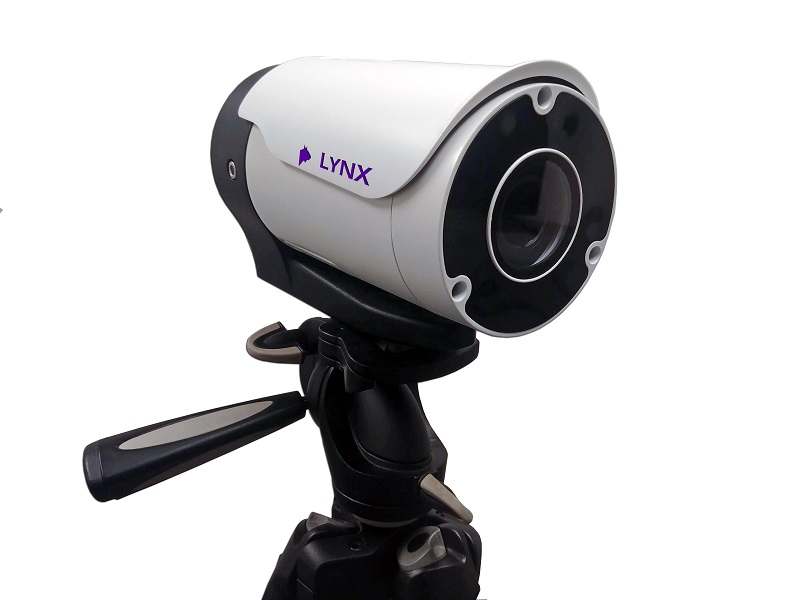 IdentiLynx Packages Include:
IdentiLynx Full-Frame Video Camera
Power-Over-Ethernet Power Module
Tripod and All Necessary Cables
PLUS Free Standard Shipping
IdentiLynx Model

SR

HRS

US List Price
$2,095
$2,595
Key Features
– Auto-iris motorized lens
– Sturdy water-resistant housing
– Auto-iris motorized lens
– Sturdy water-resistant housing
– High resolutions/speed
Max Resolution
1280 x 960 @ 30 fps
3840 x 2160 @ 10 fps
Max Frame Rate
30 fps (1280 x 960)
60 fps @ 1280 x 720
---
Purchase: A FinishLynx Camera Upgrade
Receive: Free Service & Recertification
Take advantage of the 2023 Summer Promotion by choosing one of our great camera upgrade offers. Add upgrades to any (or all) of your cameras and you'll get Free Service & Recertification (a $425 value) when you send it back to Lynx. See the table below for a list of applicable upgrades.
| | |
| --- | --- |
| Cameras | Available Upgrades |
| 5L500 Vision | Timing, LuxBoost, High-Res., VDM, PLC |
| 5L600 Vision PRO | Timing, LuxBoost8, 6K, 20K, VDM, PLC |
Summer Promo Upgrades – Eligible for Free Service & Recertification
| | | |
| --- | --- | --- |
| Upgrade | Description | Cost |
| LuxBoost | LuxBoost amplifies available light for better photo-finish images in low-light conditions (See a sample image). Requires a Vision or Vision PRO Camera. | $995 |
| Video Display Module | The Video Display Module (VDM) enables the live display of Lynx running time, results, and images on a video display connected to the HDMI port of Vision cameras. Connect a compatible display to the camera back and instantly show live results. View Demo Video. Requires a Vision or Vision PRO camera. | $595 |
| Timing | Add the Timing option to an existing non-Timer Enabled reverse angle/alternate finish line camera. This not only allows it to function as a backup to your primary camera, but also run as a separate, fully independent system by adding a separate start system. | $3,495 |
| High-Resolution | Vision Series: Increase max resolution from 1,000 fps to 2,000 fps and maximum image height from 640 pixels to 1,280. | $1,995 |
| Phased Light Compensation (PLC) | PLC helps correct the strobing effect of artificial lighting when capturing finish line images. PLC improves image captures by sampling frames before and after the dark vertical lines and then blending pixels to reduce distortion from artificial phased lighting. Requires a Vision or Vision PRO camera. | $895 |
EtherLynx Camera Trade-In Program
Want to upgrade to a new Vision camera instead? Trade in your existing EtherLynx camera for a trade-in credit towards the purchase of a new full-color Vision camera with EasyAlign, Power-over-Ethernet, and several other new features. View the Camera Trade-In Section for more info.
---
Purchase: A LaserLynx EDM Device
Receive: Free FieldLynx LITE License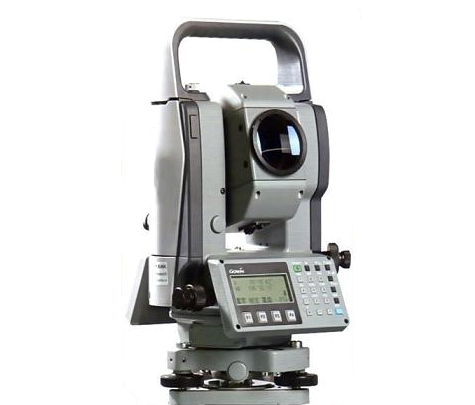 Electronic distance measurement devices have long been considered too cost prohibitive for many track programs. We are excited to offer a great price on the LaserLynx EDM system: $3,295. LaserLynx is a laser-based electronic distance measurement device that produces accurate, computer-generated measurements for field events (Shotput, Javelin, Discus, Hammer, Long Jump, Triple Jump). LaserLynx can be used with FieldLynx LITE for fast measurement/scoring calculations, or combined with the full FieldLynx software to integrate measurements across the network with meet management databases, scoreboards, and announcer applications. When you purchase a new LaserLynx unit as part of the Summer Promotion, you'll also receive a free FieldLynx LITE software license.
Add LaserLynx Distance Measurement
Summer Promotion Bonus – FieldLynx LITE Software
FieldLynx LITE allows officials to measure horizontal jumps, vertical jumps, and throwing events at track meets. LaserLynx EDM lasers will interface with FieldLynx LITE, which can in turn connect to a wind gauge and/or compatible scoreboard. Unlike the full version of FieldLynx, FieldLynx LITE does not integrate with meet management databases. Instead, it allows officials to capture and display electronic distance measurements in real-time directly from a netbook. FieldLynx LITE comes complete with the following plug-ins:
LaserLynx Plug-in: For laser measurement of horizontal jumps and throwing events
Scoreboard Plug-in: For displaying real-time event data on a connected scoreboard
Wind Gauge Plug-in: For managing wind readings for horizontal jump events
View the LaserLynx PRO datasheet (.pdf)
---
Purchase: An Extended Warranty
Receive: Free Service & Recertification
When you purchase an Extended Warranty for your EtherLynx Vision or Vision PRO camera during the Summer Promotion, you'll also receive a 25-Point Camera Service & Recertification (normally $425) free. Extended Warranties are a fantastic way to protect your investment.
There are 1, 2, and 3-year warranties available, each of which offers complete camera coverage:
All Parts & Labor on the Camera
Extensive Technical Support
Only Available for Vision & Vision PRO Cameras
| | | | |
| --- | --- | --- | --- |
| Warranty | 1-Year | 2-Year | 3-Year |
| Cost | $595 | $995 | $1,295 |
PLUS FREE SERVICE & RECERTIFICATION
---
Free Bonus
When you Purchase a Camera Upgrade or Extended Warranty During the Summer Promotion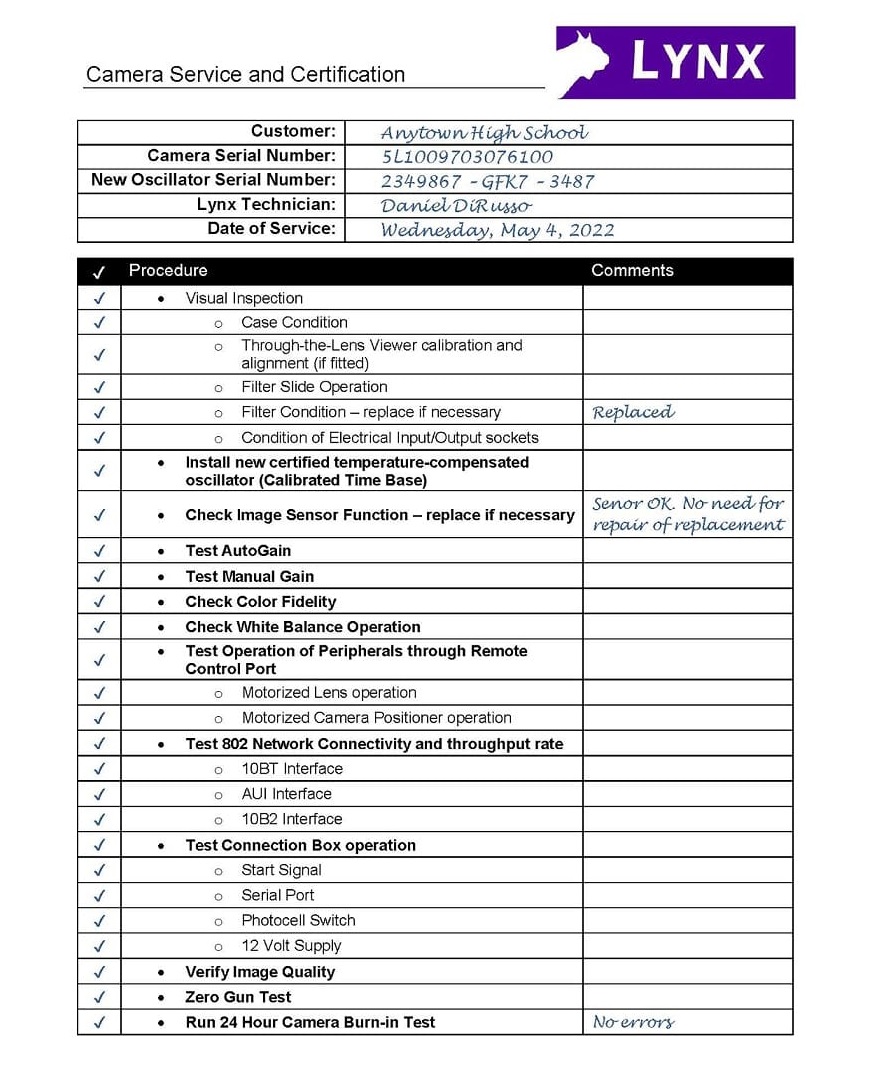 When you send in your camera for an upgrade, it will also receive a professional Service & Recertification. Our technicians will complete a 25-point checklist to ensure that your camera is working flawlessly, testing key components and replacing them when necessary. The service includes running each camera for a full 24-hour diagnostic test period, performing a Zero Gun Test as described by World Athletics, and renewing the Temperature Compensated Crystal Oscillator that controls the timing functionality.
Upon completion, Lynx will attach a new Certificate of Compliance, save the calibration date in the camera's memory (to be displayed in FinishLynx), and update your records with a new certificate of accuracy. The Service & Recertification process is normally valued at $425, but it is free when you purchase an applicable upgrade during this year's Summer Promotion.
Pro-Tip: World Athletics (formerly IAAF) recommends that photo-finish equipment be certified for accuracy every 4 years (see World Athletics Rule 165:14).
---