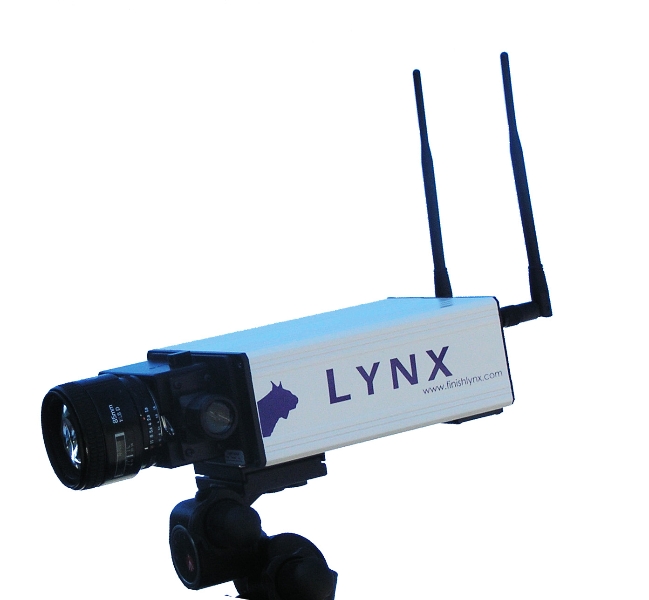 EtherLynx Fusion Photo-Finish Camera
The EtherLynx Fusion is a highly-versatile digital photo-finish camera that produces full-color results images at
2,000 frames per second
and can be upgraded to 3,000 fps. The Fusion offers unparalleled light sensitivity and compatibility with a variety of
software plug-ins
and
upgrades
. It comes standard with a color image sensor, 100BT network port, 12VDC input and AC adapter. See below for optional upgrades, including
FLEX
and
WiFi
.
In the base configuration, the EtherLynx Fusion produces color images with over 2 million colors at up to 2,000 frames per second and 1,000 pixels of image height. The optional WiFi upgrade allows the camera to transmit data wirelessly across the results network, while the FLEX upgrade increases the camera's image resolution dramatically. With FLEX, the Fusion's three-line image sensor can scan up to 3,000 fps at 500+ pixels of image height, or provide up to 2,700 pixels of image height at 1,000+ frames per second.
That means the EtherLynx Fusion can capture beautiful, full-color results images at a range of sports, from high-speed events like cycling and motorsports, to races with wide finish lines like regatta and paddling events; all of which demand either the superior frame rate or the extreme vertical resolution offered by the Fusion. The EtherLynx Fusion joins the EtherLynx PRO in offering powerful image and pixel resolutions that are well-suited to capture fully automatic timing and results at even the most difficult conditions, including those found at top-level motor sports, cycling, skating, and horse racing venues.
The versatility of the EtherLynx Fusion camera in a wide range of sports is clear. Like the EtherLynx PRO camera and the EtherLynx 2000+ it is also incredibly flexible operationally: when used with a 12 volt battery and WiFi upgrade, you can transmit data wirelessly to your network computer and achieve true cable-free operation.
EtherLynx Camera Documentation
| Name | File Size | |
| --- | --- | --- |
| CS-C Mount Adapter - User Guide | 163.9 KB | Download |
| EtherLynx Fusion Datasheet | 751.5 KB | Download |
| Etherlynx Pro Camera Datasheet | 717.8 KB | Download |
| EtherLynx Vision Datasheet | 736.1 KB | Download |
| EtherLynx Vision PRO Camera Datasheet | 732.6 KB | Download |
| Loading EtherLynx, IdentiLynx, & VeriLynx Cameras - Troubleshooting Guide | 218.5 KB | Download |
Software & Camera Setup
| Name | File Size | |
| --- | --- | --- |
| Lens Focal Length & Frame Rate Calculator (LensCalc.xlsx) | 22.5 KB | Download |
| QSG - EtherLynx Camera Setup (Hub) | 2.4 MB | Download |
| QSG - EtherLynx Camera Setup (no hub) | 2.4 MB | Download |
| QSG - EtherLynx Vision Camera Setup | 830.7 KB | Download |
| QSG - General Setup of EtherLynx Cameras | 848.9 KB | Download |
Product Version: 3.8.0
Weight: 2.8 kg
Dimensions: 20 × 15 × 7.5 cm

Related Products