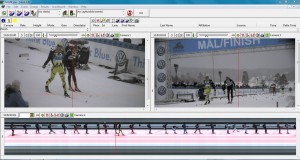 Lillehammer, Norway– Birkebeinerrennet, the famous cross country skiing marathon in Norway, has integrated FinishLynx photo finish technology into the event's sophisticated results system. The annual event is one of the oldest and most challenging races in the Worldloppet Federation. The 2013 event was held on March 13th and featured 16,500 of the world's finest Nordic skiers. The Birkebeinerrennet course begins in Rena, Norway and continues 65 grueling kilometers (40.38 miles) to Lillehammer.
The marathon was timed by the Hego Group. The Norwegian timing company is world leader in Nordic skiing results and has serviced many World Championship and Olympic-level events. The Hego timing team combined an RFID chip timing system with an EtherLynx PRO camera and two IdentiLynx PRO video cameras to capture reliable finish line results for almost 17,000 competitors.
The FinishLynx hardware served as a key backup for the chip system by providing time-stamped photofinish images with full-color affiliations and bib numbers. This chip/photofinish complement is very similar to the FinishLynx RFID Triad we recommend for Cross Country Athletics events. Fortunately, the FinishLynx software can be adapted for the needs of such a large race. Click on the software screenshot below to see how the FinishLynx image and 2 IdentiLynx video feeds are combined on the interface screen.