Generate Revenue By Selling FinishLynx & IdentiLynx Captures
Parents and coaches know that in youth sports, trophies and photos are a key aspect of remembering their athletes' personal achievements. Luckily, anyone who owns a FinishLynx system already has the ability to preserve these memories while also bringing in some revenue for the sports program.
"When you go and time a meet, you're 95% of the way to being able to sell pictures." – Glendon Rand, Brewer Timing
Athletic programs across the country are always in need of additional funding. And with a combination of local sponsorships and/or selling photo-finish images to families, the additional revenue can really help a track program's bottom line. Whether you're a small high school or a local service provider, you could be generating hundreds or even thousands of dollars in revenue by selling your photo-finish and IdentiLynx images at meets.
Selling Photo-Finish Results Images
Race timers can easily print and sell race images on paper, laminated foam boards, or even heat-transfer them onto t-shirts. The process to print the images is simple, giving anyone the ability to create beautiful souvenirs. This simple printing process can generate some additional revenue at meets while also giving athletes and parents a unique keepsake from the event. Some race timers will give a script to the meet announcer to help them promote the images for sale. Posting sample photos in bathrooms and at the concession stand has proven to be another effective tactic.
"Really we train high school kids in 10 minutes how to print a picture — it's crop, print." – Glendon Rand, Brewer Timing
Local Sponsorships
Local sponsorships are a huge part of youth athletics. Business logos appear on team uniforms in many sports. There are many advantages offered by a donation to a non-profit sports organization and an increasing number of companies are willing to do so for these reasons. Some companies are even willing to underwrite the cost of producing prints in return for having their logo on every image, which can easily be done within the FinishLynx software.

Real World Examples
Below are two samples of how race timers can design and print images for sale. The first image is a traditional results image exported right from FinishLynx and laminated on a foam board. The second example shows how some custom design elements can be added to enhance the overall look and make excellent souvenirs for athletes and families at championship races. Look for ways to customize the images and create unique and desirable items for a specific event, sport, or audience.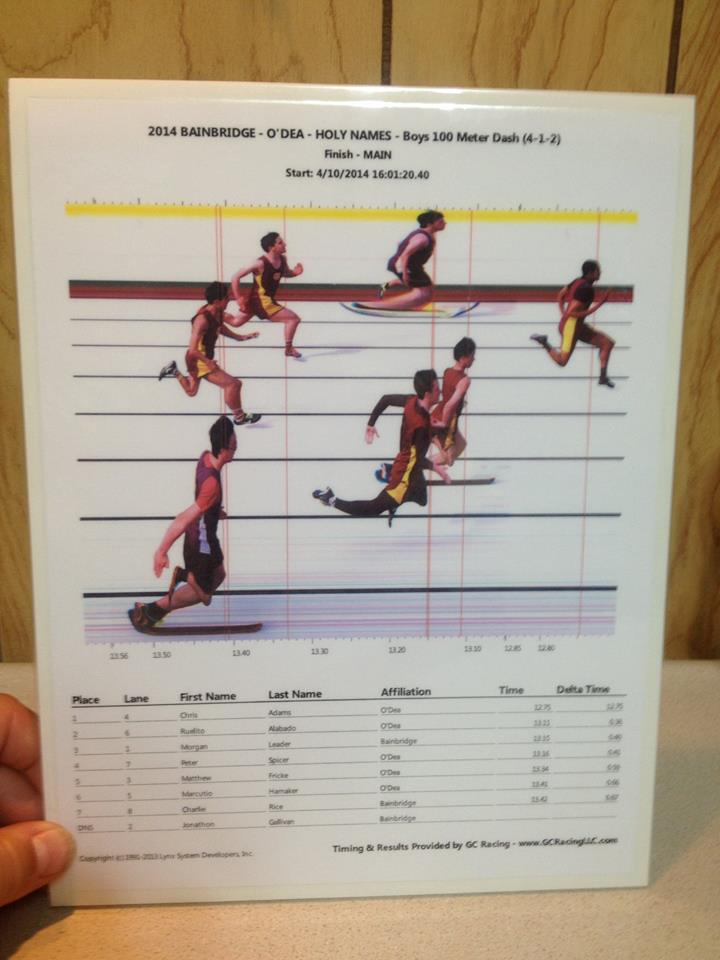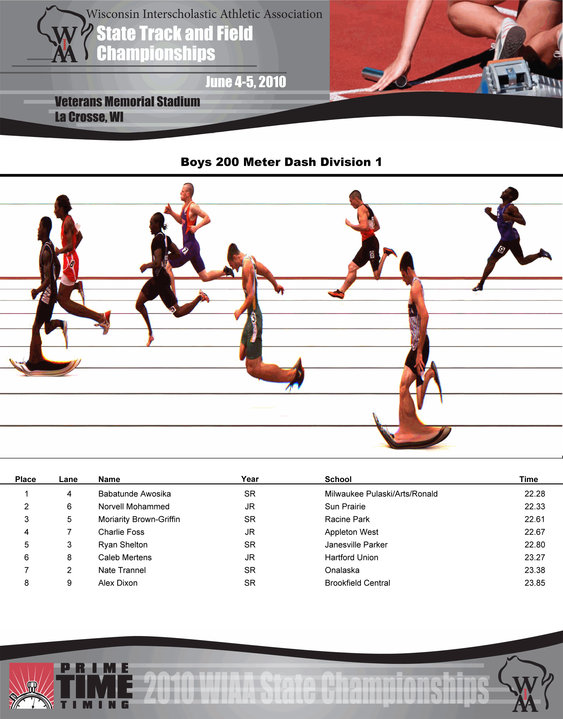 ---
Want learn more about how timers from Brewer High School started generating thousands of dollars for their track program? Watch the 4-part video below. The presentation was recorded back in 2009 but the tips and insights are still relevant to timers today. The fact is, athletes and their families will always love seeing beautiful images of them crossing the finish line. How you provide them is up to you.