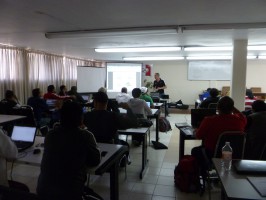 In early December 2013, Lynx System Developers, Inc. collaborated with the International Association of Athletic Federations [I.A.A.F.] and the Federación Mexicana de Asociaciones de Atletismo [F.M.A.A.] at a Digital Photo Finish and Timing seminar in Mexico City.
The three day seminar ran over three days and the timetable included:
A full day of FinishLynx system explanation, and classroom training
A ½ day of practical training at the Centro Deportivo Olimpico Mexicano
A further ½ day of advanced system configuration and operation
An athletics competion at the Centro Deportivo Olimpico Mexicano that was 100% timed by the participants.
Lynx provided two instructors, one Spanish speaking, and one from the Lynx Headquarters in the USAto present the information at the seminar. The FMAA organized the seminar, arranged accomodation for the instructors and the participants, and secured the cooperation of the Centro Deportivo Olimpico Mexicano in the project. The 24 particpants came from all parts of Mexico for the seminar.