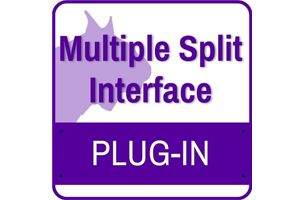 Plugin: Multiple Split Interface
The Multiple Split Interface (MSI) plug-in allows FinishLynx operators to capture multiple finish lines within a single race using the FinishLynx software. Adding the MSI plug-in to FinishLynx means the software can be configured to capture multiple images with the same camera (i.e.; the camera records a new image every lap); or when multiple cameras are present, the software can capture images from several different cameras located throughout the race (i.e.; capture images from cameras located every 1/4 mile of a thoroughbred track).
Because the Multiple Split Interface plug-in allows users to capture multiple finish lines in a single event, it is a popular software plug-in for Track & Field relays, Thoroughbred and Greyhound Racing, and Velodrome Cycling.  With the MSI plug-in, the FinishLynx software can be configured with one EtherLynx camera located at the finish line, or multiple cameras located at specific split intervals throughout the race.
The plug-in allows EtherLynx photo-finish cameras to be configured to automatically capture a split location at a certain time, or capturing can be done manually by the operator. The MSI plug-in allows users to toggle between cameras from within the FinishLynx software. For instance, cameras could be setup to record each quarter mile split of a thoroughbred race. The splits will then be organized in the FinishLynx software and included in the .LIF file. The splits recorded with the plug-in can also be printed along with the rest of the fully automatic timing results.
FinishLynx Software Plugins
| Name | File Size | |
| --- | --- | --- |
| Multiple Split Interface FinishLynx Plugin | 154.9 KB | Download |
Product Version: 3.8.2

Related Products