Add FinishLynx Timing Systems to a Track or Athletics Venue
Complete Track & Field Fully Automatic Timing Packages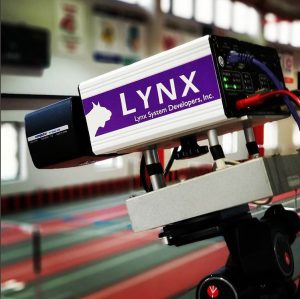 Everything you need to have FAT at your venue
FinishLynx fully automatic timing (FAT) systems can capture high-speed photo-finishes at up to 20,000 frames per second. All photo-finish images are time-stamped so you can evaluate athletes with accuracy, no matter how close the finish. The power and precision of FinishLynx has made it the gold standard for track and field results for 30+ years. FinishLynx photo-finish cameras can now be found in thousands of athletics stadiums across five continents, and our timing systems are trusted by elite-level track meets around the world.
Continue reading to see how FinishLynx can be utilized for Track & Field events as well as Cross Country meets. We also have resources for architects, contractors, and builders looking to install infrastructure to support fully automatic timing at a sports facility.
Track & Field Timing Solutions
Track Events
When adding a FinishLynx FAT system to your athletics program, there are some questions that should be considered.
Is this an indoor or outdoor facility, or will you need a solution for both?
Is there a single common finish line or alternate finish lines to plan for?
Is there a permanent scoreboard, or plans to install one?
Do you have a press box that you want to be operating from?
These are a few of the considerations that should be discussed, and our team is happy to help navigate these to find the right solution. One of our packaged timing solutions may be the way to go, or we can create a custom configuration to meet any needs.
Field Events
In addition to FAT systems for athletics, we also carry solutions for your field events. By combining FieldLynx Field Event Software with LaserLynx Distance Measurement, your program will have the tools needed to manage all your field events with ease. The FieldLynx software connects with meet management software, and allows operators to access athlete listings, administer events, and upload results to any computers or scoreboards on the FieldLynx network.
Sample Configurations
Track Installation Resources
FinishLynx fully automatic timing (FAT) systems are being utilized in thousands of sports venues across the world. Outfitting a new stadium for a state-of-the-art results network can be a long process. That's why we prepared technical resources to support you every step of the way. You can download our installation brochure here.
In general, the earlier you plan for integrating Lynx technology into the infrastructure of your stadium, the more flexible and seamless the final results network can be. This is especially true for large, multi-sport athletic complexes. Providing adequate access to power, conduits, networking, and junction boxes is essential for venues of any size.
Whether you're looking to implement a basic FAT system, or install a more advanced setup with multiple conduits and junction boxes, FinishLynx has the flexibility to meet your needs. Visit our Track Installation Resources page for more information.